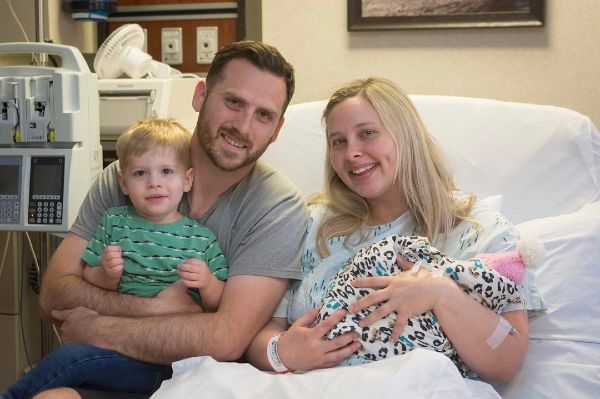 A truly amazing mother who decided to carry her terminally ill baby to full term, in order to donate the organs, has given birth.
Kerri Young posted a picture on her Facebook page of her perfect little family, post-delivery, and captioned the image, "We said hello and goodbye to our sweet Eva yesterday. She was so perfect in her own little way."
Kerri and her husband, Royce, discovered that their baby had fatal anencephaly when they went to an ultrasound at 19 weeks, but made the brave decision to carry baby Eva to term, in the hope that her organs could be used to help save another.
"She has perfect feet and perfect hands. She has perfect kidneys, perfect lungs and a perfect liver. Sadly, she doesn't have a perfect brain," Kerri wrote on Facebook back in December, in a heartbreaking post.
This particular birth defect means that a baby does not have a fully developed brain, and is usually fatal within a few hours of delivery; however, the baby's other organs typically develop as normal - allowing for an organ donation.
Throughout her pregnancy, Kerri has been updating friends, family and followers on social media - through honest and amazing Facebook posts - constantly reminding people that "this is not a sad story".
We are in awe of Kerri's positivity.
She wrote on Facebook: "The longer I stay pregnant, the higher the chance is that we will get to spend time with Eva before she passes (theoretically), so we're taking things easy and doing our part in that."
"Organ donation for transplant is no guarantee for her, and we knew that from the beginning; but I won't lie, we want her to continue living in some way. We're trying to come to grips with all our possibilities right now and be OK with whatever happens, because there are no givens with anencephaly," she continued.
While infant organ donation is extremely rare, doctors have informed the Young family that if everything went to plan, little Eva's heart valves, kidneys, liver - and possibly her pancreas - would be eligible for donation.
The couple have not yet made any comment about whether or not the organ donation will go to plan.
"Eva will have life even though it will be short. She'll donate anything she can and do more in her time on earth than I ever will."