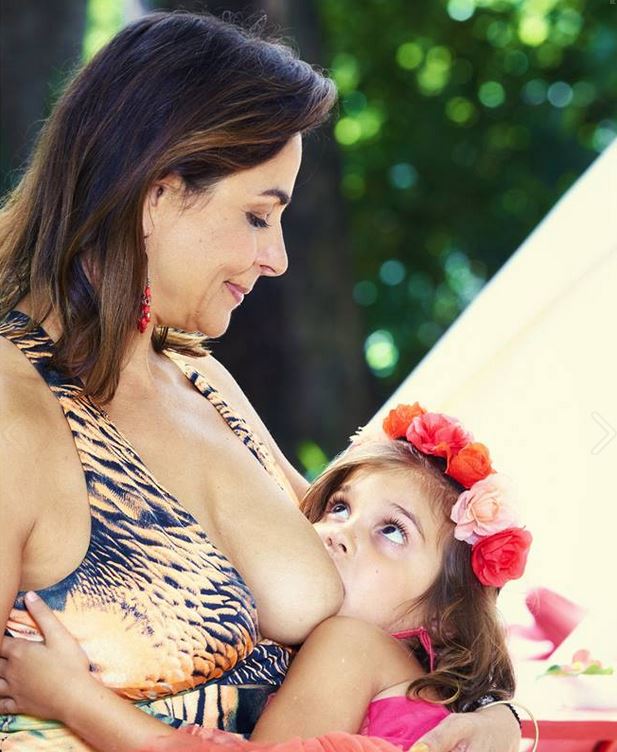 While she has never been attacked while breastfeeding in public, mum-of-three Maha Al Musa says she's received a lot of hurtful comments online over her choice to breastfeed her six-year-old girl.
The mum, who runs a mindful movement for pregnant women called Bellydance For Birth, will share her story this week on Australian station Channel 9's Inside Story. In the promo for the upcoming episode, Maha says that many people are seriously opposed to her choice to breastfeed and she's even been called a paedophile.
But the mum, who lives in Byron Bay, Australia, with her Scottish-born partner John Hamilton, says she will continue to do things her way, no matter what other people think.
"People can say whatever they like. I know what I am doing as a mother.
"I've raised three beautiful healthy intelligent well-adjusted children and that's all that matters to me.
"My heart goes out to people who criticise me and I respect people's criticism. [But] this isn't about breastfeeding children. This is about attack and disrespect of the feminine."
Last week she posted a message someone had sent her on her Facebook page to highlight the kind of criticisms she receives.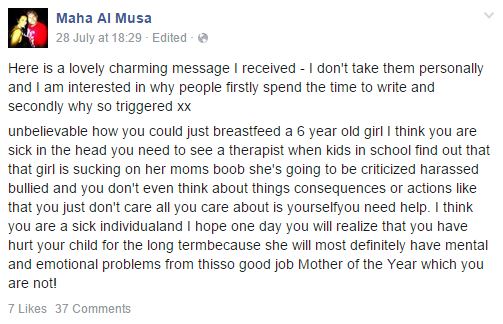 However, despite the controversy, Maha has said that she won't stop breastfeeding her daughter until the little girl is ready: "I'll breastfeed until my daughter's 10 if that's what she wants"
That day may come sooner than later, after Maha posted to her Facebook recently to say her daughter was considering giving up breastfeeding during the day.
"Allowing a child's natural term BF [breastfeeding] development to progress naturally without force.
"My daughter a couple of weeks ago said she felt ready to stop breastfeeding but only maybe do it at night.
"I told her to do what works for her and I fully support her decision."
While there may be a number of people criticising her methods, Maha has a lot of support online and has seemingly helped a number of other mums parent with more confidence.