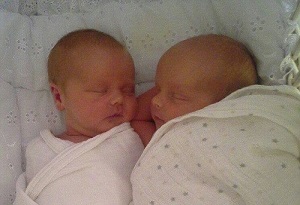 We've heard some amazing birth stories in our time, from the traumatic to the bittersweet, but this will be a special one to tell the kids.
An Australian woman has 'delivered' her own twins during her caesarean section, reaching inside herself to welcome her children into the world.
Gerri Wolfe opted for what is referred to as a 'maternal assisted caesarean section' with her tenth and eleventh children, Matilda and Violet.
Ahead of what was her fifth caesarean, at John Hunter Hospital in Newcastle, New South Wales, the 41-year-old decided to buck tradition and do something a little different this time around.
After encountering a complication in her 36th week, Gerri was told that she would have to undergo a caesarean or a VBAC (Vaginal Birth After Caesarean). Having read about the maternal assisted caesarean, Gerri rejected the advice of her doctors to go ahead and plan for it.
"The doctor was willing once he realised the risk of infection wasn't as high as he perhaps first thought…It was more about making it that much more personal, and for me to have a connection at the birth of my children," said Ms Wolfe.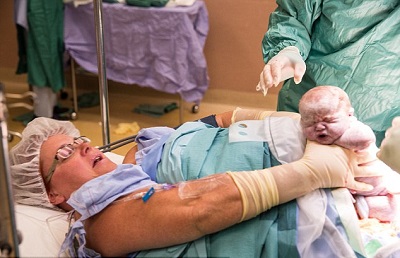 During the birth on December 22nd, she scrubbed in and wore a pair of elbow-length gloves. After being given her epidural and laying down on the operating bed, her gloves were changed – then she got the prompt that her turn was up.
"It was just like a normal caesarean from then until he said, 'reach down and grab your babies,'" she said.
Violet and Matilda are the latest happy and healthy additions to the Wolfe family, described as 'noisy and chaotic'.