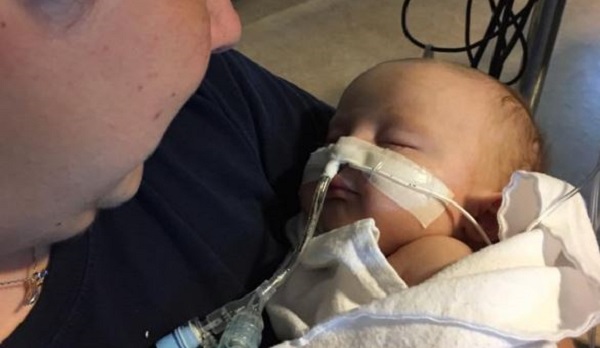 The issue of vaccination always sparks debate as, while some people are either for or against it, there are also those who feel hard-done-by when their government makes it difficult to get access to these potentially life-saving injections.
For those who have the choice and the access, Canadian mum Annie Mae Braiden has a message for you: please, vaccinate your children.
Annie shared her message in a harrowing Facebook post documenting her 10-week-old daughter Isabelle's ordeal with whooping cough.
Posting photos of the tot in intensive care, where she has been since she was six weeks old, Annie revealed the terrifying consequences of the tot's health battle.
"We're still facing another two months in the hospital. She has to learn how to eat all over again; she's going through major withdrawals from the morphine and sedative she was on when she was ventilated - do you know how hard it is to watch your 10-week-old go through withdrawals?!," wrote a clearly distressed Annie.
As devastating as the details of Isabelle's recovery may be, Annie admitted that her family is very lucky – because they came really close to losing their daughter.
She recalled: "The nurse picked her up and ran her down the hall to the ICU to get her ventilated, because we were losing her. What you do with your kids is your choice, but do not tell me that not vaccinating your kids isn't hurting anyone but your own kids. Isabelle is proof that it harms the other little babes who aren't old enough to get their vaccines yet. "
Closing her now viral post, Annie proceeded to urge parents reading to vaccinate their children, for fear of what a condition like whooping cough could do to them or those around them.
"Please vaccinate your kids. It's not fair that my little girl is in the PICU, coughing and not being able to breathe from a disease that shouldn't be around in this day and age… Yes, I understand some kids can't be vaccinated, and I'm not talking about those babes," she added.
SHARE this story to spread Annie's harrowing message.