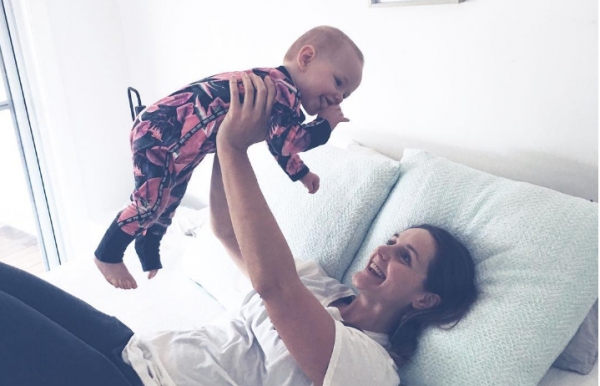 Whether it's your first or fifth baby, we all know that caring for children is hard work, but blogger Siobhan Rennie has a few thoughts for first-time mums.
The woman behind MeOhMy thinks that some new parents need a reality check, but she insists that she doesn't mean that in a bad way.
Siobhan now has two children only 17-months apart, and recently wrote a blog post for parents with "just" one child.
"Suck it up. RIGHT NOW. Because - one is easy (well, easier). Two or more babies/kids is a logistical nightmare."
Siobhan predicted that there might be some backlash to her views, but believes she has the information to back up her statements.
Now that she has two children, she wants first-time mothers to know that she would do things differently if she was to go back to the birth of her first child, because if she could, she'd be more "in the moment."
The mum-of-two said that she stressed herself out in the first few months of motherhood and tried to do everything the "right" way.
She read numerous baby books, had various lists and routines to try and have everything perfect for her little one.
But little did she know that this was the time to make the most of only having one child - and by that she means, not having to cart around two prams or having to make two bottles.
So, her advice? Well, she lines it all out here.
1. "Soak it up and bide your time" (i.e. make the most of the early days, because before you know it, they'll be gone.)
2. Don't stress about 'doing it all' - that mantra does nothing but instil panic when we inevitably "fail".
3. Ditch the 'shoulds' - because blogs, mothers groups, baby books will all tell you a different version of what you "should" be doing. It didn't take long for Siobhan to realise that 1) all kids are different, and 2) "'SHOULD' can just get F*CKED."
4. Baby books suck (ish) - see point above.
5. Go out. With them. Often. "Think going out with your ONE newborn/baby is hard? Wait until they're moving. Or walking."
"Cafes. Early evening drinks. If the child will sit in a pram, it doesn't matter if they need a dummy - just get some YOU time and couple time while you can. Because, before long you might just regret not doing it more."
What do you think of Siobhan's views? Do you think she's right.
SHARE if you know a first-time mother.