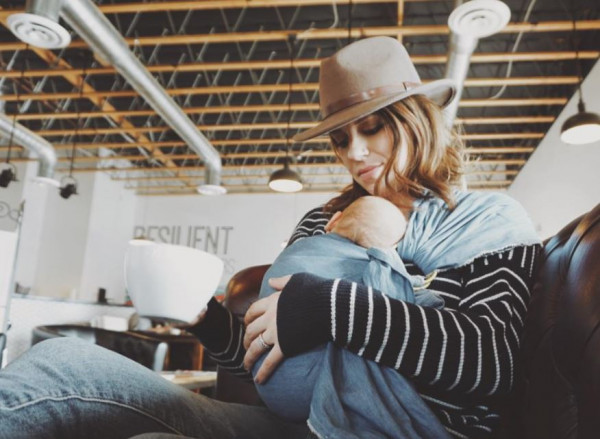 Teresa Mendoza lost her first child, Sylvia, when she was 40 weeks and 2 days pregnant. A much-wanted baby, Teresa and her husband, Carlos, were obviously heartbroken, and the mum shared her journey of grief on her blog Writings for Sylvia.
However, in October of last year, the couple were delighted to welcome their second child, Leo Coronado - Sylvia's brother and Teresa and Carlos' 'rainbow baby'.
But the mum-of-two rejected the title, a term which describes a baby born after "miscarriages, stillbirth or an infant or child's death" and signifies the "rainbow that comes after a storm."
Protective of her daughter, Teresa admitted to feeling hurt by the idea that her daughter is thought of as being a storm.
"A rainbow baby is a child born after miscarriages, still birth or an infant or child's death," the mum wrote on Instagram, alongside a photo of Leo.
"It signifies the rainbow that comes after a storm. For a long time I rejected the title, feeling protective of Sylvia and hurt by the idea that anything surrounding her was a storm.
"She is perfect, not a storm, we are heartbroken, but she is not a storm, it was a great tragedy, yes, but she is not a storm."
However, the phrase has a different meaning for Carlos, something he shared with his wife during her second pregnancy.
Continuing, Teresa wrote: "Somewhere along the pregnancy with Leo, Carlos told me that his interpretation equates to both Sylvia and Leo as rainbows that were shining above the storm and that the storm had nothing to do with Sylvia except to bring the rainbow of her and now her brother into our lives.
"She is the rainbow as much as he is...and the two rainbows that showed up in this photo make me think he's absolutely right."
Teresa's post certainly resonated with a lot of parents, with some admitting to feeling their own conflict with the term.
"This is how we see it to. The storm is the hell were living in since Josha died, and he is the rainbow above us and when my water broke and we needed to go to the hospital, in the car we saw a double rainbow in the sky. I believe that Josha was with us, with his little sister and needed us to know that he will be with us forever! Sylvia is with you guys, and no she is not a storm!" wrote one mum.
Another wrote: "I hate the term rainbow baby. I was finally lucky enough to carry my rainbow. He was amazing. And then he died. What do we call that? When a rainbow dies...".