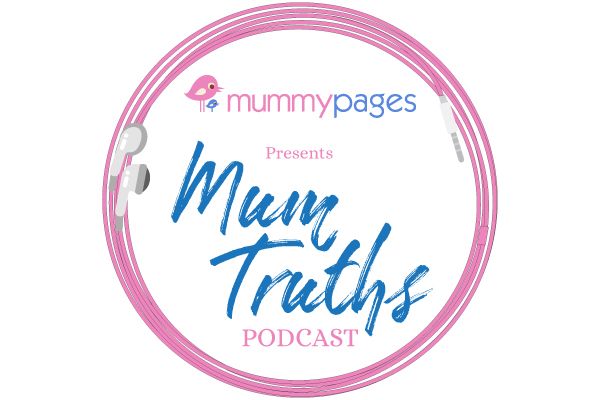 Here at MummyPages, we've always prided ourselves on being honest when it comes to navigating the world of parenting. Raising a child is an extraordinary journey; one filled with the highs of wonderment and awe and the lows of exhaustion and sometimes, the loneliness that can come with raising our little ones. For all the moments of joy, certainly modern parenthood comes with more pressures than ever before. Talking about our personal journeys and sharing our #mumtruths is definitely one way to help us find our own path through motherhood and our new podcast series aims to do just that. No need to stop what you're doing - just pop in your earphones anywhere, anytime to allow your head and your heart to take a moment just for you.
A parenting podcast with a difference

That's where our 'new arrival' comes in: We're delighted to introduce #MumTruths, our new podcast series created to discuss the honesty sometimes lacking in the sharing of our collective parenting journey.

Presented weekly by our mum-in-residence (and mum of two) Laura Erskine and broadcaster (and mum to two little ones) Suzanne Kane, we'll invite parents and experts to shine a light on the experiences and dilemmas experienced by so many mums (and dads).
Introduction to #MumTruths:
Here Laura and Suzanne introduce our new parenting podcast. Meet Laura Erskine, mum of two (almost 3) and the Mum-in-Residence for MummyPages and Suzanne Kane, broadcaster and more importantly mum of two little people. In this short introduction to #mumtruths the brand new Podcast series brought to you by MummyPages, Laura and Suzanne discuss the honesty sometimes lacking in the sharing of our collective parenting journey, and also invite mums (and dads) to share their personal parenting insights and experiences with our listeners.
Mum Truths: Episode 1:
In this episode, Laura is joined by Irish stand-up comic, Emma Doran and mum of three. Prepare for some honest #mumtruths about life as a mum to a teenage girl and two small boys, along with a few giggles too.
Mum Truths: Episode 2:
In this episode, Suzanne is joined by TV presenter, Laura Woods and mum of two. Listen to some #mumtruths as Laura reveals how life as a working mum on screen, is not as glamorous as we might think!
Mum Truths: Episode 3:
In this episode, Laura is joined by clinical psychotherapist Joanna Fortune and founder of the Solamh Parent Child Relationship Clinic. Learn how Joanna's unique practice of just 15-minutes of mindful play between you and your child can effectively address the common behavioural issues you will meet as your child grows.
Where can I listen to and download the podcasts?
Either by clicking any of the podcast episodes highlighted in this article or the link below. Our #mumtruths podcast will open in whatever app you have on your phone including iTunes, Spotify, and Stitcher, or your phone may invite you to download one (there are hundreds of podcast apps and Mum Truths will be on pretty much all of them).

If you don't have space on your device to download a new app, you may listen to it here on our website, or direct from host Audioboom


Don't forget to subscribe and share this podcast with all of your friends. And if you'd like to get in touch please email us at: mumtruths@mummypages.ie