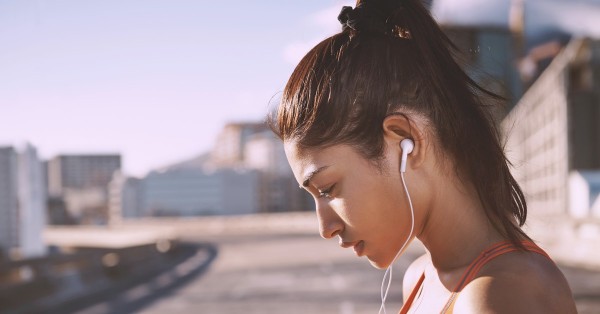 While a good plan and a positive frame of mind are essential to a
successful workout
, there is one thing that make the world of difference.
We've been had the annoyance of terrible music or, even worse, terrible TV on more than a few visits to the gym so we decided to start gathering our own playlists and take control of our workout.
It might sound silly but the right music can make or break your session and dependant on what you're doing, you can chose the perfect playlist to suit.
Energy and positivity
This playlist is exactly what it says on the tin.
From folk to a bit of indie rock, this playlist has everything you need to get your body fuelled.
Perfect for this week's yoga session, of course.
Running to Rock
Again there's no mystery here, it's a rock'n'rolling time for you and your run with this playlist.
But what makes this set of tunes even better is that it has incorporated some very smart thinking.
This playlist brings your heartrate from 170 to 190 as the songs play. Meaning as you start to warm up and get more comfortable this playlist's metronome will make you push yourself.
Perfect for meeting this week's running target.
Wild and free
This playlist is a great upbeat option for those of you looking to avoid those intense dance tracks that seem to dominate the speakers at every gym.
With an amazing mix of Americana tunes and folk melodies that will have you feeling upbeat and ready to push yourself.
Perfect for a run in the great outdoors.
Motivation Mix
Full to the brim with upbeat, energetic pop and dance music to get you feeling empowered.
There are some amazing jams on here that definitely had us feeling we could conquer the world.
Perfect for those days where you'd rather get a full-body wax than go to the gym.
Let's get physical
This is two hours and 42 minutes of pure 80s classics.
From Olivia Newton-John to Run DMC to Billy Ocean, this playlist is the ultimate alternative to "gym music".
And as with all great 80s music, you'll be smiling ear to ear while clicking your fingers to these beats.
Just good luck getting them out of your head once you've finished.
Perfect for days you feel like making your workout, fun!
Cool down
We've all been told time and time again how important it is to warm up and cool down so why not get a playlist that will make those extra few minutes a joy.
This playlist is the ultimate in relaxation and calm.
"Research has proven soft, relaxing music aids in workout recovery."
The caption pretty much proves why you need this playlist in your cool down routine.
Do we even need to say it? Perfect for your cool down.
SHARE these great workout playlists.