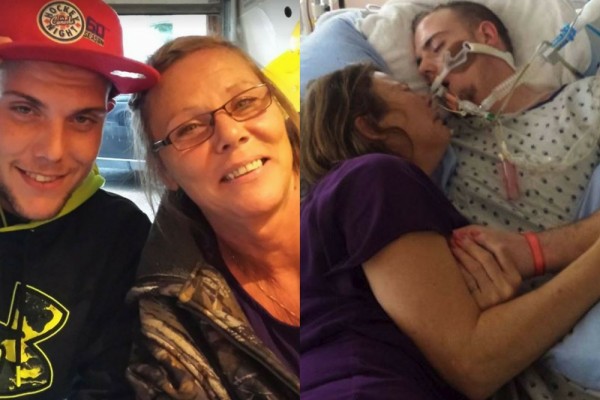 A grieving mum has shared the last photo of herself and her son online before he was taken off life support.
Sherri Kent, from Calgary in Canada, had to make the agonising decision to take her son Michael, 22, off a life support machine after he overdosed on the prescription drug Fentanyl.
She decided to post the emotional photo of herself crying while holding her son's hand as he lay on a hospital bed, to warn other families about the dangers of the drug.
Sherri shared the tragic photo to her Facebook page, appealing to others to share it to raise awareness about the deadly drug. Michael died on March 21, after his life support was removed.
"My son was not an addict, he made a mistake that cost him his life," she wrote.
"I've lost my son to this horrible tragedy and want to make parents aware that it can happen to anyone."
Sherri wants to warn others about prescription drug abuse, which she says is "out of control", and says "there is no way to protect our children from this other than to warn them of the dangers of drug use today".
"Please share this with your family and friends to help prevent another tragedy", she concluded.
Sheri told CBC News that she was allowed stay by Michael's bedside to lay with him and talk to him. She said of the photo: "This is where I told him I was still proud of him."
"It was one of the hardest things I've ever had to deal with in my life. Believe me, it was the worst day of my life."
She explained that her son had met up with a man who told him he had "some strong heroin", and the pair took the drugs in a shop's toilet - with Michael overdosing. The other man left Michael behind but alerted the shop owners to his presence.
"He was already blue in the lips. By the time the ambulance got there, he was in cardiac arrest," Sherri explained.
Doctors believe Michael overdosed on Fentanyl but are still awaiting toxicology reports.
Fentanyl is 100 times stronger than morphine and is popular with drug users who mix it with heroin, or take it on its own.
Many people have overdosed on the deadly drug, including musician Prince who passed away last year.
Sherri's photo has been shared over 100,000 times on Facebook since she posted it a week ago.