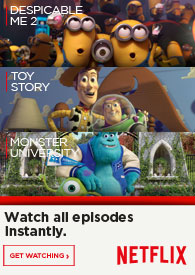 Whatever the weather brings this Halloween Mid-Term, you can rest assured that there will always be something on Netflix for you and your kids to enjoy.
You might not be able to do much exploring outside in the rain, but you can still enjoy endless adventures with the huge selection of TV shows and movies available for kids on Netflix.
Why not pull over the curtains and curl up with the kids, and enjoy some family favourites on Netflix such as Toy Story, Monsters University or Despicable Me 2.
We want to know what your family favourite film is on Netflix? What is your favourite film to watch with the family at Halloween? We also want to know what device you and your family tend to use to watch your favourite films?
Share your family favourite film on Netflix and be in with a chance to win a Samsung Galaxy Tab.
**** Winner announced!! *****
Thank you so much to everyone who watched Netflix with us and commented on the group. The winner of the a Samsung Galaxy Tab is DollyPrincess - well done, we have sent you an email. Thank you to everyone who entered. 
Become a fan on Facebook and follow @NetflixUK on Twitter to be first to hear about new TV shows and films on Netflix UK & Ireland. Get Involved #TimeToNetflix