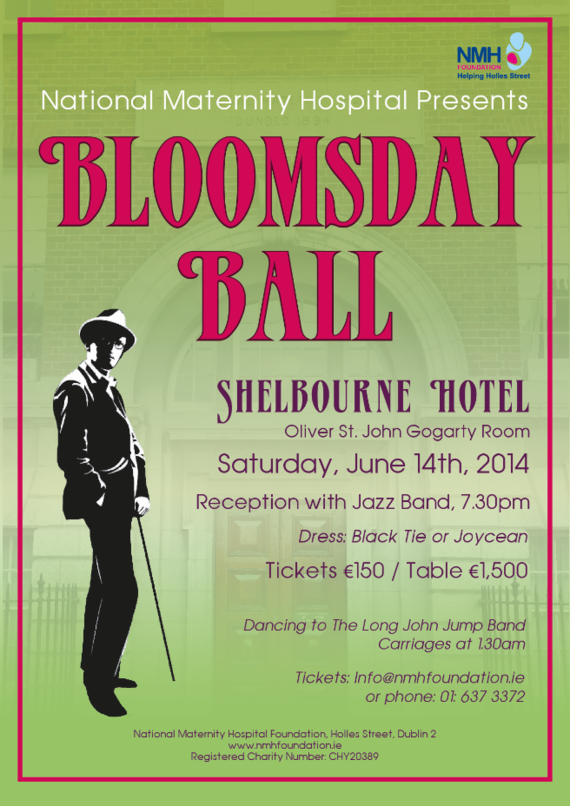 Bring out your inner Joycean and support the National Maternity Hospital (NMH) Foundation's Bloomsday Ball.
The NMH Foundation will host its 2nd annual Bloomsday Ball at The Shelbourne Hotel on Saturday, June 14th 2014.
The fundraiser is in aid of the Neonatal Intensive Care Unit at the National Maternity Hospital, Holles Street and all money raised will go towards the treatment of critically ill newborn infants.
The Foundation is encouraging guests to dress up in Joycean costume to honour the hospital being mentioned in James Joyce's novel Ulysses. However, there is an optional black tie alternative for those who aren't feeling brave enough.
RTE's Shay Byrne will act as MC and guests will be treated to a 4-course dinner with a selection of fine wines. Entertainment will also be provided by the Long John Jump Band.
Proceeds raised from this year's NMH Bloomsday Ball will go towards purchasing the hospital's first MRI scanner, which will offer a major advance in the diagnosis and treatment of critically ill newborn infants.
Speaking about the event, Dr. Rhona Mahony, Master, NMH Holles Street commented, "We are celebrating the historic link between Holles Street and James Joyce's Ulysses with a gala summer ball. The proceeds of the Bloomsday Ball will be used for the purchase of an MRI scanner, a first for any maternity hospital in the State. The acquisition of an MRI scanner will transform fetal-maternal medicine in Ireland and put us on a par with the best institutions in the world. Crucially, we will be able to bring the scanner with us when the hospital relocates to the St Vincent's University Hospital site in the next few years."
Tickets are €150 or €1,500 for a table of ten and can be purchased from 01 6373372 or by emailing
info@nmhfoundation.ie
.