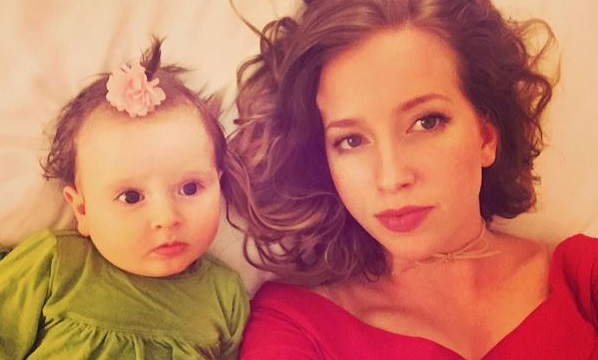 Flying with a young child is always a tricky experience, and the last thing a parent – or anyone, for that matter – needs is abuse or aggression from a fellow passenger.
Sadly, this is what young mum Juliet Thomson and her daughter Charlie encountered during a recent flight to Los Angeles with United Airlines.
The 28-year-old was breastfeeding her four-month-old tot when she was asked by a stewardess to 'cover up', after a fellow passenger complained that she was offended by the 'disgusting' scene.
This woman was shamed on a United Airlines Flight for Breast Feeding her childThis story is pretty sad, and we MUST make it VIRAL!!

Posted by Joey Salads on Tuesday, February 2, 2016
Juliet was naturally left feeling frustrated and 'humiliated', and she recalled the awful incident to YouTube star and public breastfeeding advocate Joey Salads.
Revealing that her top was unbuttoned to no lower than her collar bone, Juliet admitted that she still felt compelled to apologise for fear of making a scene on the plane. While fellow passengers seemed equally horrified by the other woman's behaviour, no one protested in Juliet's favour.
Juliet was then forced to nurse Charlie under a blanket for the duration of the flight, and had to leave the plane last so that the passenger who complained could be escorted off separately.
When Juliet finally got off the plane with little Charlie, she saw the passenger – a woman in her fifties – standing there with police. While a United Airlines representative apologised for what happened during the flight, the police reiterated that Juliet has every right to breastfeed in public – a tad ironic, given the ordeal she had just been through.
"All I could say was, 'Well, you should go and tell them that, because they just expressed to me that I had no rights, that I had to cover up because someone was irrationally offended.' And I think it comes down to a lack of understanding of the law on the steward's part – this can never happen again," said a frustrated Juliet.
Juliet has since launched a campaign urging for mums not to fly with United Airlines, for fear that they will find themselves on the receiving end of similar treatment.
SHARE to show solidarity with Juliet and every other mum who has been shamed for breastfeeding in public.