We chatted to Joanna Jenson, the founder of Childs Farm skincare brand at the launch of their newest product range OatDerma. Joanna said she was privileged to grow up in a home environment, where living sustainably and eating from farm to fork using homegrown or local produce was simply just a way of life.
It is widely known that oatmeal has great health benefits for your body, so it's no surprise that oats are good for your skin too. You might remember having an oat milk bath as a child to help soothe the itch of the chickenpox disease. Not only do oats moisturise, protect, and cleanse your skin, but they also help to boost collagen production, improve your skin complexion, and soothe and reduce skin irritation and inflammation.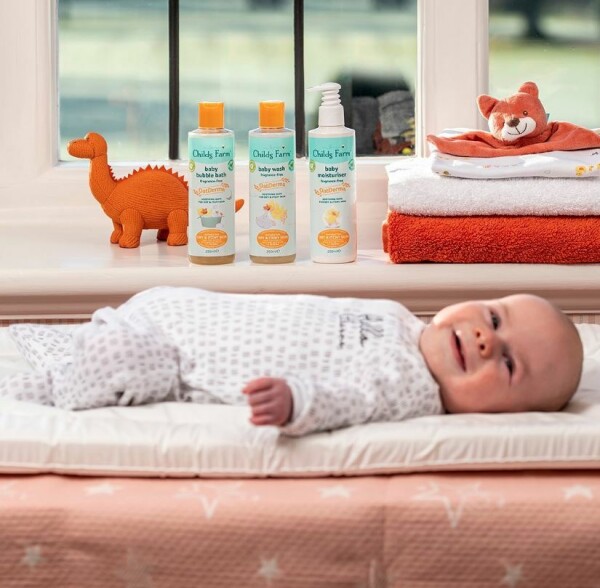 The new OatDerma range from Childs Farm is fragrance free and has been specially formulated to treat dry and itchy skin. The range of body moisturiser, bubble bath and body wash contains colloidal oatmeal, which is rich in beta-glucan and avenanthramides and clinically proven to both bind hydration into skin and to soothe irritation and redness.
These natural oat properties are combined with natural shea butter in the body moisturiser to deeply moisturise and hydrate the skin. While the oat properties in the body wash and bubble bath are combined with natural corn and coconut derived cleansers to gently clean the skin while also maintaining hydration levels. Joanna, her girls, and countless other skin sufferers already using the OatDerma range, can attest to the fact that the products leave skin feeling soothed, calm, and comforted.
Joanna herself experienced childhood eczema but thankfully grew out of it by the time she became an adult, although her skin still remains sensitive. Her mother was one of her biggest influences when creating her natural range of children's skincare products. As a practice nurse and health visitor, she believed prevention was better than cure and preferred to keep Joanna's skin well moisturised and irritant free to prevent flare-ups.
While Joanna now embraces the science for all that we continue to learn about how our skin works, she is an advocate for natural remedies over any prescription alternative to manage children's atopic eczema. In fact, it was her studies in the field of essential oils and the many benefits they offer that gave her the inspiration for some of the scents chosen in the cleansing wash, bubble bath and moisturising products first launched under her brand Childs Farm. This is the farm where she first reared her children and was formerly owned by a family by the name of Childs.
Joanna is an entrepreneur, who like so many female innovators, created her brand and range of products to fulfil a personal need. Unfortunately, eczema often tends to be in a family's genetics, so it was no surprise to Joanna when the youngest of her two daughters exhibited the tell-tale symptoms of the skin disease from a young age.
However, her doctor's visit did not fill her with joy with the recommendation to heavily chemical based skincare products and steroid cream for flare-ups. Determined to find a better solution, Joanna scoured the country to find a more natural alternative, and when she couldn't find one that was both fun and actually worked, she decided to create her own.
Joanna really felt for her daughter when she would go to the supermarket and she couldn't choose the cute unicorn themed, colourful and fragranced bubble bath and shampoo like other kids. Instead, her body wash bottle looked sterile and clinical. Joanna didn't want her daughter to miss out, she wanted and deserved the same as every other child, for bath time to be fun and full of bubbles.
A marriage separation and then divorce did not deter Joanna as she reformulated her products until she was ready to launch them for consumer sale at farmers markets up and down the country. Joanna's friend's daughter helped her to run the business, doing everything themselves from the packing and selling to the accounting. Soon a very small team formed and the demand for the Childs Farm products grew thanks to old-fashioned word-of-mouth.
Until one day in 2017 it exploded, all thanks to some honest before and after pictures posted in a social media group of fellow mums supporting one another through dealing with their children's eczema. The testimonials snowballed until Childs Farm piqued the interest of the massive Boots healthcare retail chain. But this small brand selling at farmers markets, some small health shops and online through their most basic website, hadn't got the resources to create and supply the products needed to achieve their breakthrough success moment.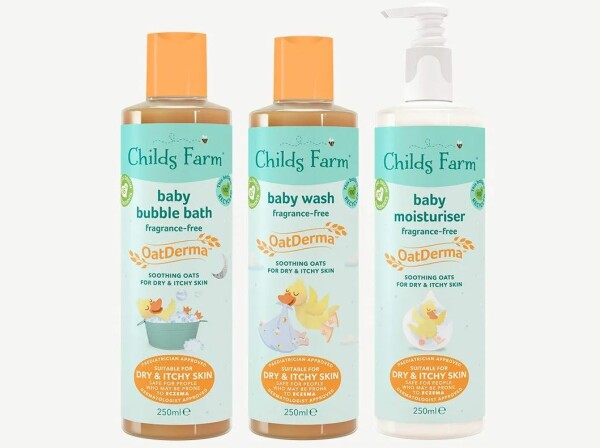 This affirmation of belief in the Childs Farm product range was just what Joanna needed to get two angel investors on board. Now a leading spokesperson for the social change movement 'Buy Women Built' in the UK, Joanna wants to promote investment and support at every level of society for businesses set up and run by women. Having struggled to get investment in the early stages of her business as a single mum of two young girls with what many investors of the opposite sex called her 'hobby', Joanna wants to encourage parents of girls to buy products and use services with brands built by women.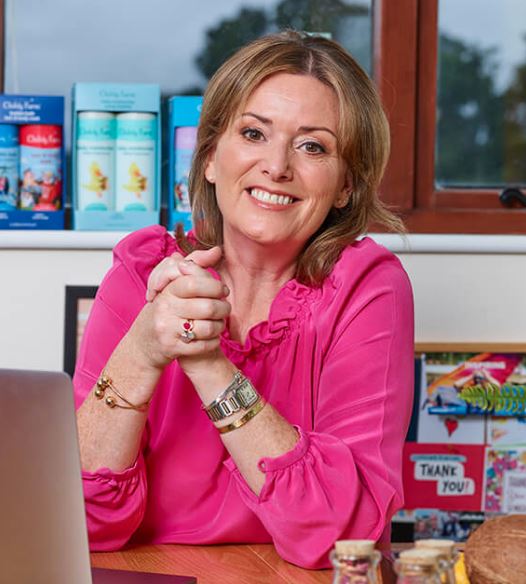 Joanna has recently taken a step back from the helm of Childs Farm, to devote more of her time to her two girls now in their teens and growing up too fast. Her mum is also getting older, and she wants to cherish the time she has left with her. She says, "I have done my bit now. My girls have seen first-hand that when it comes to their life goals and aspirations, that if they can dream it they can achieve it. Now it's time to enjoy them and to be there for them."
"I truly believe that Childs Farm has changed families lives. I still get letters all the time thanking me for giving back the joy to a child's life that was so restricted by their eczema. In fact, it's not just children, my daughters both still use the Childs Farm range of body wash, moisturisers, shampoos and conditioners. It's them on the bottles, their farm animals from when they were growing up, even the colours for the bottle tops were their choice."
Childs Farm is truly a brand centred around what is best for the child and indeed the future of today's children. From ethically sourced suppliers and sustainably sourced naturally derived ingredients, to their 100% recycled ocean prevented plastic bottles and more, they make the promise that they are not just kind to your child's skin, but they will do everything in their power to be kind to the planet too.
Childs Farm has won numerous awards voted by parents over the years, but it is the advocacy from loyal parents with children of sensitive and atopic eczema skin that continues to win the hearts and minds of new families every day. Joanna says, "We don't work with influencers in the traditional way, as we have worked too hard build a sustainable brand that values the trust that parents place with us. Any celebrity endorsement has been earned by those parents organically using our products themselves in the first place. Our success has been with thanks to social media and the many parents we have reached through sharing their own positive experiences with the brand. They do so naturally as if it has helped their child, they want to pay it forward and try to help another child struggling with sensitive skin or eczema."
"Trust is such an important value for Childs Farm. That is why we test our products on children with medically diagnosed eczema. We test all of our products on children from newborn up to 18-months so that parents can be reassured that our products are safe to use on even the most sensitive skin."
"Colleagues told me that I was crazy to want to do these consumer trials as they are expensive and were an unnecessary extra step, having already achieved the dermatologist approved accreditation for the Childs Farm products. Maybe it was because I was an eczema sufferer and also a mum of a child with eczema, I'd both experienced and seen the pain and suffering that this skin condition can cause. I was confident that my all-natural Childs Farm products would help and not irritate, but I knew as a mum that some parents would need further reassurance before trying out a new product."
The new OatDerma range from Childs Farm is available from most supermarkets and pharmacies nationwide. Giving instant relief for dry and itchy skin, OatDerma is suitable for use from birth so it can be safely used by the whole family.