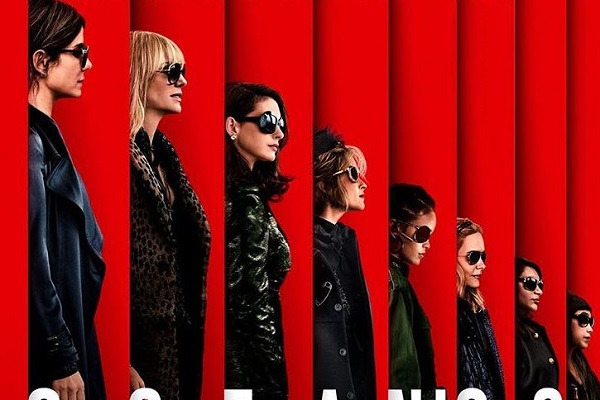 Ocean's 8 is not just a great film. Nor is it just a feminist film. It's so, so much more than that.
There's a theory in film called the Bechdel test. Basically, you listen to the amount of conversations a female character has with another on-screen female. By figuring out how many conversations are centred around men, you can figure out whether or not women were involved in the making of the film.
Basically, fewer decent female conversations= less women being involved in the production.
Ocean's 8, this summer's most hotly anticipated film, takes the Bechdel test and smashes it. The cast itself is enough to get us excited, we talking Sandra Bullock, Cate Blancett, Rihanna, Helena Bonham Carter, Mindy Kaling, Sarah Paulson, Anne Hathaway and Awkwafina the film has already smashed the US taking in over $41.5 million (£30.8 million) in its first week.
Over the last year feminism and representation has been a hot topic. Thanks to the Time's Up and Me Too movements world-wide, women are standing up and demanding equal and fair representation. Stereotypes are no longer acceptable. The women are here, the spotlight is ours and we refuse to apologise for it.
That's exactly what Ocean's 8 does. The film starts with Deborah Ocean (Bullock) providing the parole board with a sob story of how she had changed since prison, complete with mention of her dead brother Danny Ocean (George Clooney from the original series) and tears.
But that's the thing, it's an act. She serves them with the narrative they want to hear. Successful, she then struts out in an evening dress and proceeds to set herself up thanks to a high-end shoplifting spree. She's smart, she's sharp, she's fearless, but most of all she's human. We eventually find out her plan to get revenge the man that framed her and put her in jail, much to her right hand woman's, Lou (Blancette), annoyance.
But that's only part of the plan, they're going to steal a $150 million necklace off the neck of film star Daphne Krugler (Hathaway), right in the middle of the met Gala. Could the stakes possibly get any higher?
In typical heist movie fashion, the leader goes about assembling her crew. First they get the struggling fashion designer (Carter with an inexplicable Irish accent), to get them close to the target- by designing her dress for the gala. Then they need the diamond expert (Kaling), desperate to move out from under her domineering mother, followed by a slouchy pickpocket (Awkwafina), an ice cool hacker (Rihanna) and a bored suburban mother who never quite got out of the game (Paulson).
While each member of the heist team has a different function, none of them fall under stereotypes so often applied to women in any type of action film. Blachette's character could be the typical leather-clad club fixer, but she has a heart of gold, Eight ball (Rihanna) has a touching moment with a little sister and Bonham Carter struggles with ageing. Even the Hathaway's petulant and spoiled antagonist has surprising depths.
The high point of the plot is definitely the glitzy Met Gala, where big stars like Kate Holmes and the Kardasians make cameo appearances. Just when you think the heist is pulled off, it isn't, keeping you guessing in typical heist style. The dialogue is flows with the trademarked wit of the series as does the sharp cinematography.
So seriously, ladies, go see it. Bring your friends, your sisters, your mothers, your daughters and any woman on the street that looks like she might need a bit of female empowerment.
As Debby Ocean says in her pre-game speech: "We're not doing this for ourselves. We're doing this for the 8-year-old out girl there dreaming to herself at night about becoming a criminal."
Okay we're not condoning robbery here, but as girl gangs and positive messages go, this is unarguably one for all ages.
Ocean's 8 is released on Monday June 18th in cinemas nationwide.