During our short break at Center Parcs Longford Forest we got to try out some activities as a family, and Ellie got to enjoy some herself too! The main thing I would say beforehand again is to book online before you arrive to avoid disappointment.
The list of activities available is vast and there's something for all ages. In fact, I couldn't believe just how much everyone was catered for, from babies all the way up to the grandparents and those not fully able-bodied. There were so many activities to choose from that rain or shine, young or old, everyone in your party could get involved and have fun! Here's a brief outline of what we got up to as a family during our four-night stay.
The Teddy Bear Picnic: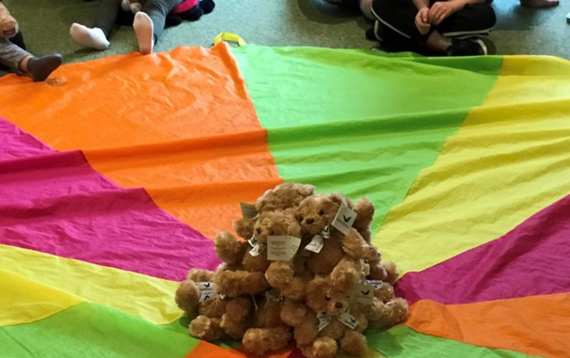 Ellie really enjoyed this and was at a good age for it. I would say a child less than 2 and a half years may not fully understand what is going on as there's an element of using your imagination during the Teddy bear hunt for 'Chestnut' the squirrel. This activity takes place in the sports plaza. There's a packed lunch included for the indoor picnic, face painting, circle time, story time and best of all each child gets to take home their very own Center Parcs Teddy at the end, which Ellie was thrilled with.
Roller Tots
This activity was good, however I think Ellie was a little too young to grasp the concept of skating (Ellie is two months shy of 3 years old). Myself and Ben were able to join in and help her during this activity where she displayed some fabulous Bambi on ice skills; she really enjoyed herself regardless of how good she was! Helmets, knee pads, hand and elbow pads and the roller skates are all provided for this activity.
Junior Pony Ride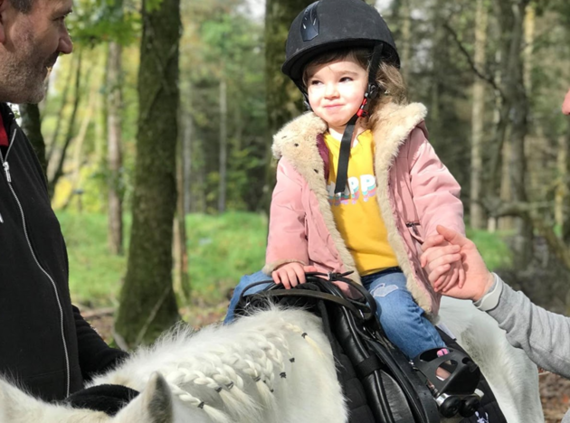 I think this was Ellie's favourite activity of the week! She got the opportunity to ride on a pony 'Tir na nÓg' around a small trail around the Center Parcs village in the outdoor activity area. This activity was a fantastic way to introduce her to ponies and was a great way to build her confidence as it was all new to her. Each individual child gets accompanied by a member of staff along the trail, with a parent (Ben and I were both with her while her grandparents were able to watch on). I was worried Ellie would be too young for this, however she was actually at an ideal age for it and hasn't stopped talking about 'her' pony since!
Bowling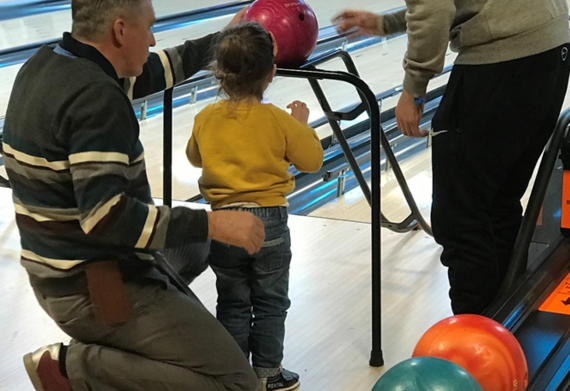 We were thrilled to get the opportunity to enjoy a game of bowling during our Center Parcs stay. This was a really great activity for the whole family to get involved in! Everyone from grandparents to little Ellie knocked down some bowling pins. This was Ellie's first time bowling and she loved it! Everytime it was her turn the assistance bars popped up in ur lane and she used the slope aid to bowl her ball. The rest of us were able to mortify ourselves with our bowling skills unaided (maybe I'm just speaking for myself!). We got to play this on a day that it was raining which was ideal, and from 2+ to 70+ everyone had a great time.
Subtropical Swimming Paradise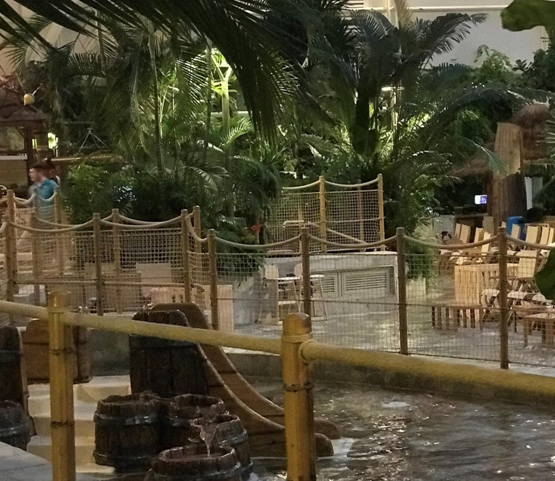 Although this isn't an additional activity to book and is free for all at Center Parcs, I just wanted to highlight how great this was to have use of for the 4 days of our break. As it says in the name, the temperatures are indeed 'subtropical' as all pools indoor and outdoor are heated which was ideal especially for young kids and the older generation in our family group.
There's so much to enjoy from the wave pool, jacuzzis, lazy river, pirate ship, water slides, and outdoor water raft we spend so much time here! The area is so family friendly with a buggy parking bay before you enter the changing rooms; they have family size changing rooms, high chairs, cots, changing mats, and floatation vests available throughout. We got to use a Cabana for our last evening which you can pre book - it's a nice extra for those with larger parties or small kids who may want their own private space as they use the facilities. It was very handy for us as it meant Ellie could have a little nap in peace and quiet to re-energize herself before another round of swimming. The cabanas have a drinks fridge, towels, soft seating, TV and magazines and the option to get food.
We all had a great time here along with Ellie's grandparents who were really impressed. It's accessible for all, with the access to hoists and swimming wheelchairs if needed.
We look forward to hopefully returning in the future to try out some more activities and the Subtropical Swimming Paradise. There wasn't any day that we felt 'bored' and it was lovely to look forward to a daily activity over the course of the stay. Prices and lists of activities are found in leaflets throughout Center Parcs and are also available on their website. For a more detailed look of what we got up to check out my Center Parcs highlights on my Instagram page @burpeesbabiesbeauty_jess.