Our favourite aspect of the amazing Center Parcs Longford Forest was definitely the Subtropical Paradise. We visited the swimming paradise every day of our
midweek break
of four nights and five days, and never grew tired of it. The entire facility from start to finish is just incredible.

The pool area contains a wave pool and lazy river that are connected to each other. The top part of the wave pool is shallow and safe for smaller children with a rope clearly marking where the pool gets deeper, watching everyone run as soon as the horn signal sounded for the wave pool to start was so much fun!

For families with young children, there were two water themed fun activity areas right beside each other with loads of little slides and fountains and a shallow warm pool to keep the little ones busy.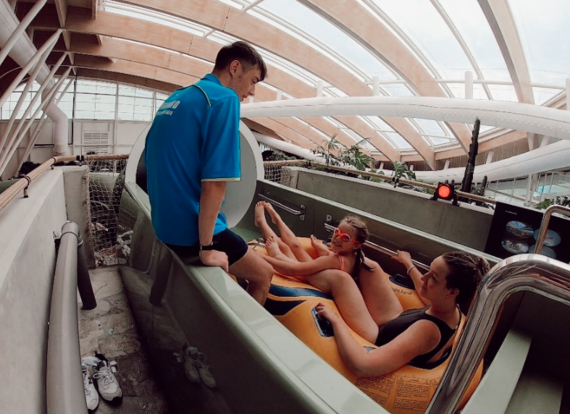 Myself and my two sisters loved relaxing in the hot whirlpools when we weren't braving the water slides! The three water slides vary in size and speed, while our favourite bit, the water rapids, was like a massive outdoor fast-paced lazy river. You really have to be able to swim to have a go on it as it's easy to be separated from your group as you're being swept around the twists and turns. It was seriously so much fun though, we must have gone on it dozens of times!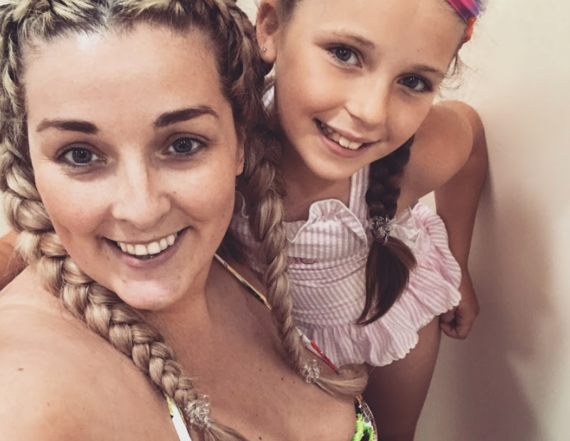 The pool is heated to 29.5 degrees Celsius all year round. Some parts of the Subtropical Paradise go outside the enclosed heated building and wind back in again, it was surreal being outside in warm pool with bubbles jacuzzi style while rain drops bounced off the water's surface!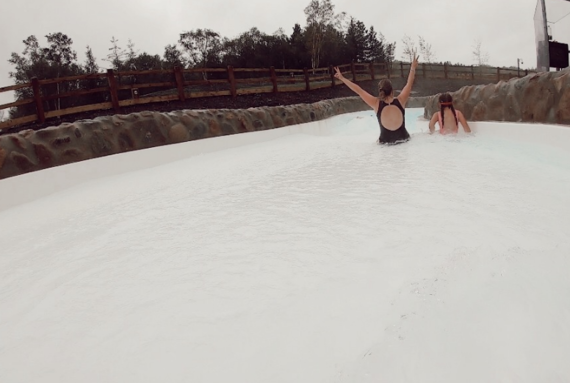 There are ample amounts of loungers and seating around the different pool areas so it's easier for families to come and settle in one spot for as long as they like. There are also cabanas available to rent which would be perfect for groups intending to stay there for long periods or those with very young children.
The
Subtropical swimming paradise
is included in the cost of staying at Center Parcs, so you can come and go as you please and as often as you like. The wristband that you get on arrival at Center Parcs unlocks both your lodge and the lockers provided in the Subtropical Paradise changing rooms, and can rent towels there if you don't fancy bringing your own up and down every day.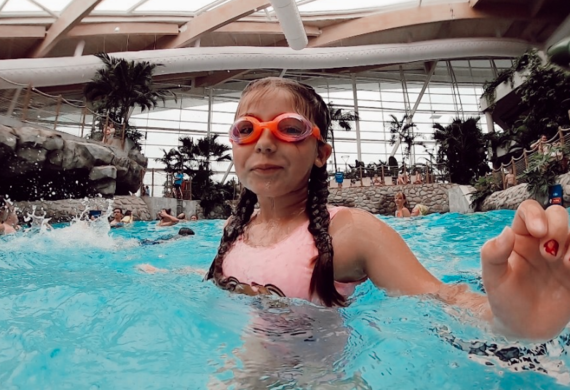 There are also some extra activities that are held in the pool at an additional cost including aqua jetting, miniature jet skis, as well as the mermaids and sharks session in the mornings. EllaMay loved wearing her mermaid tail and getting the chance to swim around the pool like the Little Mermaid. While the boys get to wear a shark fin and be the scourge of the watery depths for an hour!

You can enjoy hours of fun at the Subtropical Paradise, so there really is no need to book too many other activities during your short break at Center Parcs. It's the ultimate activity that offers inclusive fun for everyone in the family!
No matter what kind of family you have, there is a MyCenterParcs break for you.
Read more about the Myers family trip to Center Parcs
here