When it comes to accessibility and inclusion, Center Parcs are certainly leading the pack when it comes to taking a short break with your family in Ireland. They really have gone above and beyond in being mindful of families like ours and our various needs. I met so many families with differing levels of special needs while I was away and the one thing they all had in common was the smile on their faces.
While I'm aware each special needs child or adult has different needs and different requirements, I believe that Center Parcs have been as inclusive as possible in designing Longford Forest and all of their adaptations are to a very high standard. If you have any queries you have about accessibility, I would contact Center Parcs directly, as the guest services team are extremely responsive and more than willing to help in any way they can.
Accommodation
As per my
previous blog
we were staying in an executive lodge, but I can confirm each adapted, accessible lodge has the same features, when it comes to equipment and accessibility.
The
accessible rooms
are located downstairs in any of the two-story lodges with their own entrance, each bedroom comes equipped with an electric bed, with sides and various settings for height and inclines. Each bedroom also has a ceiling hoist.
The accessible bathroom has all the required handrails and wet room facilities, the hoist does not extend into the bathroom, there is plenty of room to maneuver wheelchairs and any extra equipment you may have.
All doors in and around each lodge meet the width requirements for a wheelchair.
The Infrastructure
All surfaces around Center Parcs are flat, with the most common surface being tarmacadam. Noah absolutely loved this, and It was great to see him enjoying the freedom and independence that this even surface offered throughout Longford Forest.
Restaurants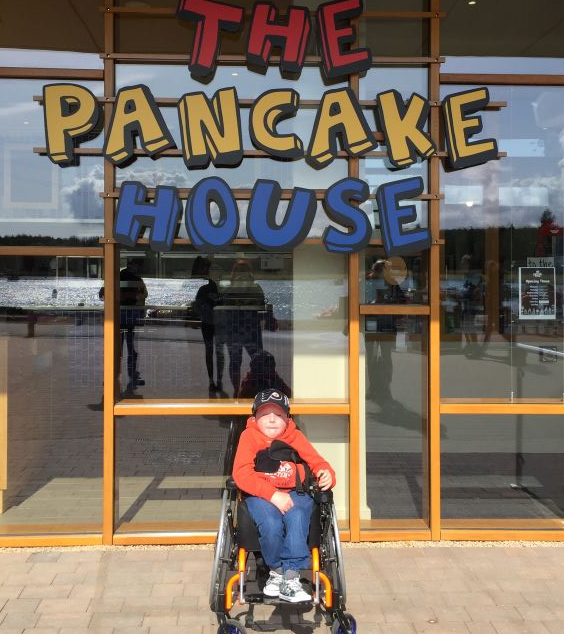 Each restaurant has a wheelchair accessible bathroom, while there is plenty of room to accommodate a wheelchair for dining at their tables.
Sports Plaza and Subtropical Swimming Paradise
The swimming pool facilities were very impressive with multiple accessible changing rooms and a fully equipped accessible bathroom with shower facilities and changing/shower table and a hoist, I was advised that this facility is also available in the Sports Plaza.
There was also a hoist in the swimming pool which gives access to the outdoor pool, and the special pool wheelchair gives those with special needs access to the wave pool.
Activities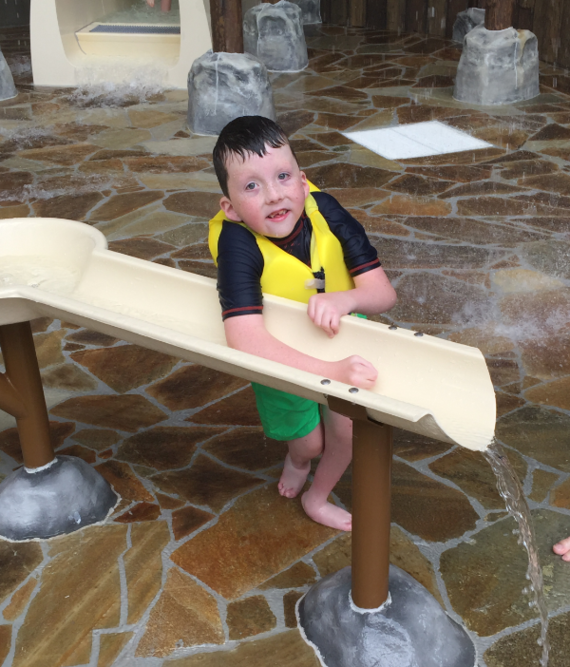 There are a lot of activities that Noah could have participated in on site at Center Parcs. The staff were all so friendly and accomodating, going out of their way to make sure he was both comfortable and safe. My advice is to check the activity guide on the Center Parcs website to see which ones are suitable for your family, bearing in mind their age and ability. We really enjoyed the activities that we tried but there are so many on offer, you couldn't possibly do them all. In fact, one activity per day would be plenty as the children (no matter what age) will want to spend most of their time in the Subtropical Paradise! When it comes to bicycle hire and all of the families you see enjoying cycling around Longford Forest, you'll be pleased to hear that they have a specialised adapted bicycle wheelchair for families like us. The adapted bicycle allows the wheelchair user to sit in the front while their companion sits behind.
Summary
Overall Center Parcs have gone above and beyond when it comes to creating a family holiday destination that offers accessibility for families like ours. Honestly, we have not been anywhere that's even close to how inclusive the facilities are at Center Parcs Longford Forest. Noah had the time of his life and in turn the rest of us did too.
The best review I can give is to tell you all that we would return to Center Parcs in the morning if we could. We had the best time and we will hopefully get to
experience the magic that is Center Parcs
again in the future.
No matter what kind of family you have, there is a MyCenterParcs break for you.
Read more about the Fitzsimons family trip to Center Parcs here