There is nothing as special as a trip to Center Parcs Longford Forest but go to visit the Winter Wonderland and expect your mind to be blown. We had been during the summer time and we quite literally had the time of our lives so my four ladies were beyond excited to see it in the winter. We arrived Friday evening for our weekend break just as the sun was beginning to set over Longford Forest. After checking into our cosy four bed lodge we hightailed it to collect our bikes because I think it is one of the most enjoyable ways to get around when you're there, although tell that to my poor thighs after a weekend pulling a trailer with a 1 and a 3 year old! Cycling from the Cycle Centre to the main Village was simply put, breath-taking. What seemed like almost a million fairy lights frame the lake creating what feels like the set of a movie only it's real life. It was one of those beautiful, simple moments, listening to my two older girls scream and laugh when they saw all the lights set against the backdrop of a cool winter's night.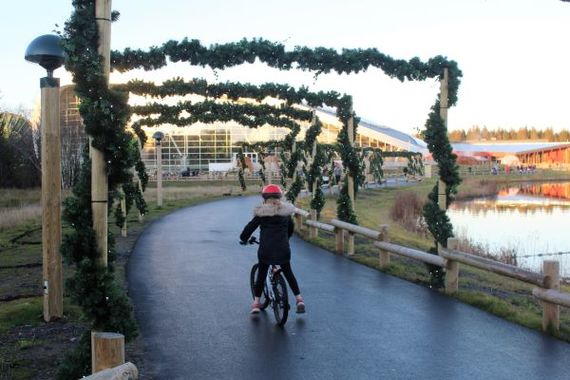 We stayed in on Friday night, with a hot dinner, a few fire logs to warm up our fingers because we forgot to bring gloves (bring gloves, believe me your hands will thank you!) and the Toy Show so that come Saturday morning we were ready to visit Santa in his Woodland Village. A path meanders through a section of the forest which is covered in snow and dotted with little houses depicting elves busy at work with their festive jobs. There is music playing and snow falling, honestly pure escapism at its best. There is also a big festive post box which kids can use to post those all important letters! We arrived at Santa's Grotto then where there are a few scenes with Elves at work to keep kids entertained while they wait for the man himself. Santa was lovely, really friendly and he spent lots of time chatting with the girls, he even got a little chat out of our notoriously shy 3 year old! The toys our girls got were either creative or encouraged imaginative play.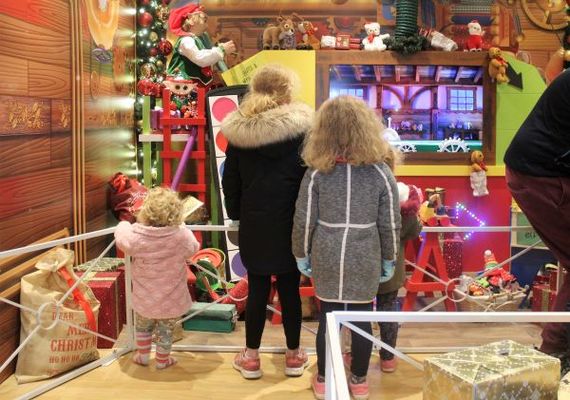 The whole experience lasted about an hour so plenty of time to get off to the Subtropical Swimming Paradise for a few hours before lunch time, especially nice after a chilly morning because the entire swimming area is always around 29.5 degrees so it's toasty! In our experience with Center Parcs the Subtropical Swimming Paradise is a huge draw for our kids who range in age from 15 months to 7 years old, but it's clearly enjoyable for all ages. It is incredibly well laid out, there are so many age appropriate areas for babies, kids, adults and daredevils. In winter the outdoor pool area is a real treat, especially on a cold, dark evening.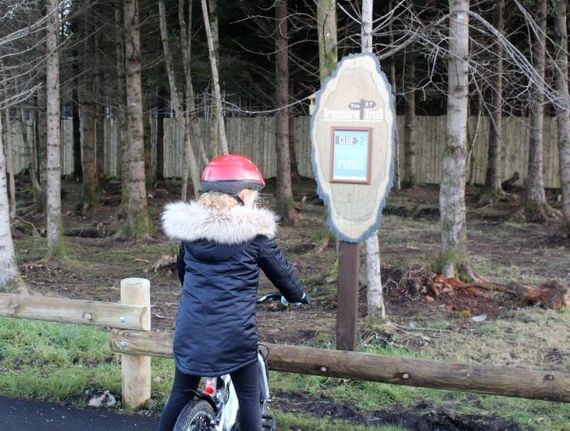 Next up was the Festive Treasure Trail on Saturday afternoon. I went with my smallest lady in the trailer and did it with my parents who also got to enjoy our short family break away in our 4-bedroom Woodland Lodge. It was such a lovely excuse to get out and really explore the forest. The clues are easy so even the smallest member of your team will be able to contribute! The whole activity took about an hour and I discovered my Dad is very competitive!
Saturday night we ate in Bella Italia, which was absolutely fabulous. As with every single dining experience we have had in Center Parcs, it was relaxed, easy, calm and did I mention relaxed? (and we have four kids under 7!!). For the babies, Ella's Kitchen food pouches are provided free of charge in each restaurant. There is also a microwave, bottle warmer and kids cutlery which sounds obvious but believe me I've watched our small ladies eat dinner with a teaspoon in restaurants on more than one occasion! They also have colouring sheets and a soft play area in each restaurant. There were two portion sizes to choose from, the girls all got pizza, the younger two (ages 3 and 5) going for the piccolo size which was absolutely perfect and the 7 year old went for the grande which, again, was just right.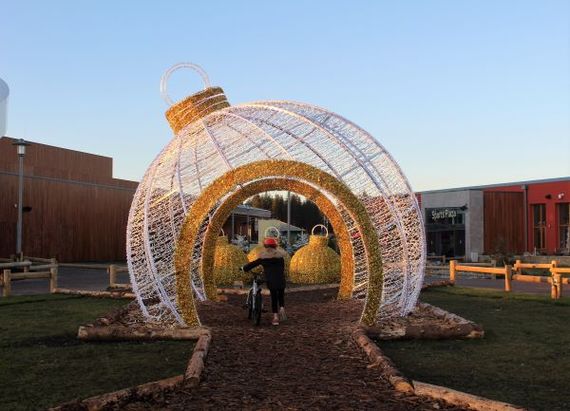 On Sunday after a morning spent in the Subtropical Swimming Paradise we ate in the Pancake House. The food was so good and so filling. I had a bbq pulled pork pancake and wasn't what I expected, the pancake was really light and fluffy and the toppings were incorporated into it, so yum! Again, the kids portions were sized appropriately so no food waste, definitely one of our major annoyances when we're out for food with the girls and we're given portion sizes suitable for adults for the kids. Center Parcs are very aware of their impact on the environment in terms of food waste and the drinks are all served in glass bottles with paper straws.
Sunday afternoon, we went our separate ways with the girls, the two middle ladies did the Festive Chocolate Chefs afternoon. It was three hours long and the girls went off themselves with two lovely elves. They decorated a chefs apron and hat, they made four festive treats (a marshmallow snowman, a secret ingredients bar, a rice krispie snowball and a festive biscuit) and they put on a little show for us at the end. It was absolutely gorgeous, they had an amazing time and even my 3 year old enjoyed it and she would typically be shy. It also highlighted to me the importance of child safety in Center Parcs, the kids were kept safely away for the duration of their activity and parents needed a password to be able to collect the kids afterwards.
My 7 year old did the indoor climbing wall, not particularly festive but the Christmas Roller Disco was on in the background so there was a fine festive vibe going on. She loved it, it was about an hour long, she got to try all the walls more than once and the instructors were excellent.
At 6pm on Sunday evening the light show took place in front of the pancake house by the beach. It lasted about 10 minutes and was lovely, beautiful imagery was projected into the sky with water fountains and the trees in the background lit up too. There was also a very special visitor at the end who made his way across the lake in a little boat, what a magical touch!
I don't think I could finish any article about Center Parcs without mentioning the staff who work there. They are incredibly nice and kind and they engage with the kids in such a natural way it's just so lovely.