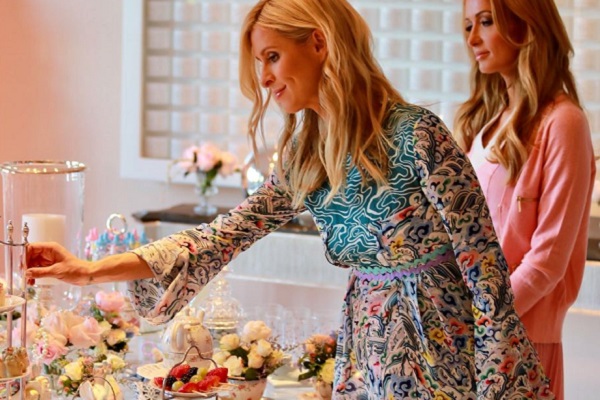 There's one person who knows you too well and that's your sister. They may drive you up the walls when they steal your clothes, but they have been by your side since your primary school days and will stand by your side on your wedding day.
There's nothing stronger than a sister's bond. Paris Hilton showed how well she knows her sister by throwing the perfect baby shower for her younger sister Nicky.
The soon to be mum-of-two posted photos from the classy event on her Instagram account. Her one million followers were thrilled to get a glimpse of the baby shower.
36-year-old Paris decided to plan an afternoon tea party for her sister. There was no way their guests would go hungry with the huge array of sweet treats available, from macarons to mini cupcakes.
The table was decorated with pastel coloured flowers including fresh white roses and pink peonies.
They even had the most elegant china teacups, teapots and saucers for their afternoon tea. How classy!
We are obsessed with the sparkly silver 'A baby is brewing' sign that was placed at the top of the table.
Nicky's baby shower is the stuff of dreams. It looks like it came straight from Pinterest.
The American businesswoman took to Twitter to thank her sister for planning the perfect party. She wrote, "Thank you @ParisHilton for throwing the sweetest tea for the mama to be."
Fans were overjoyed to see the mum celebrating her future son/daughter with her family, "Implacable girls...! Much more blessings to this beautiful family " said one fan.
Thank you @ParisHilton for throwing the sweetest tea for the mama to be pic.twitter.com/5nPqtzVSKK

— Nicky Rothschild (@NickyHilton) November 22, 2017
Nicky was joined by her mum Kathy and sister Paris for the grand occasion. The trio posed for photos before the event kicked off.
Fans praised the glamorous trio, "Two queens and a beautiful mom and aunt. I just want to congratulate you all, this beautiful family deserves the best in life always."
People couldn't help but admit that they were jealous of the glamorous party, "Wow what a beautiful mama. I'm so jealous, nobody threw me a baby shower. It looks like a dream."
Nicky hasn't revealed if she is expecting a baby boy or another baby girl yet, but that didn't stop her followers from speculating.
They flooded the comment section with questions about the baby's gender. Fans analysed every little detail, "She's wearing blue, does that mean it's a boy?"
Another added, "There's a lot of pink! Another girl?"
We wish we were on the guest list for Nicky's baby shower. It looked like the most beautiful celebration.