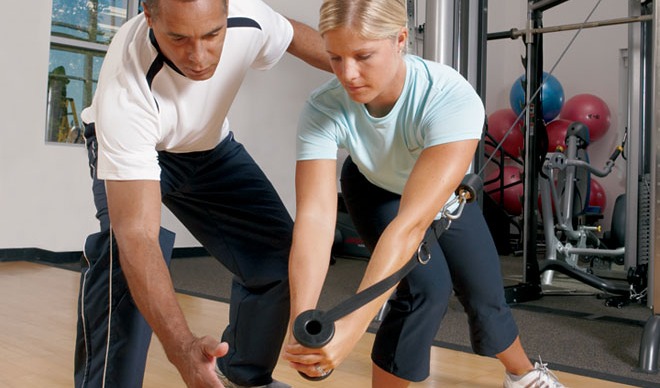 If working out was simple, we'd all have 'perfect' bodies and take part in 30 minute spin classes during our lunch breaks, but unfortunately it isn't.

The clue is in the name, after all!

However, working out does become a way of life if you embark on it the right way.

We're told that preparation, determination and perspiration is all we need to move ever closer to our dream dress size, but this isn't always the case.

Some of us need that extra push. And sometimes that push comes in the form of a personal trainer.

No shame in our game. We need to be supported and encouraged on our journey and what's wrong with that?

If you're considering using a personal trainer, here are ten pros and cons involved in teaming up with a work-out guru!

Pros

1. You will work to your absolute limit

You know those times you slowly slunk off the treadmill because you were bored and Coronation Street was calling?

That will be a thing of the past and you'll soon learn to love it!

2. You will make a new friend

While you may not think it when you're busting a gut for this veritable stranger, the person training you will soon become a friend.

They'll listen to you no matter how much you discuss your muscle pain or middle of the night cravings, and lets be honest, can you really say the same for all your current friends?

3. You will develop discipline

There will come a time when you won't slack on burpees or sit ups just because your trainer momentarily turned their back.

In fact, you'll soon find yourself throwing one more burpee into the mix for good measure, because why not!

4. You will learn so much

You will be schooled in almost every exercise technique you need to hone and tone your body, and believe us, any personal trainer worth their salt won't stand for bad form or posture.

You'll have perfect gym posture in no time!

5. Your attitude will change

Yes, there will be days when you don't want to go to your session, but you will!

You will have discovered so much about yourself that you'll drag yourself off the couch because exercise is no longer a 'maybe' thing, it's a way of life.

Cons

1. Price

Personal trainers can be a pricey endeavour, so be sure it's what you want before you take the plunge.

2. Approach

Some people do not respond well to demands and orders, so if you think this isn't something you can get used to, personal training is not for you!

3. Time

If you're used to dropping in and out of the gym whenever you fancy, you'll have to become a lot more disciplined when it comes to an exercise routine.

Normally, you will have booked your sessions ahead of time, so there's no excuse to skip out or dodge them because it's not fair on your trainer and it's not fair on your weight loss goal!

4. Research

It's important you research various personal trainers in order to hire one that will suit you and your goals.

This may take a little time, so be prepared to spend a few days trawling through websites and checking in at local gyms to see what's on offer.

5. Dedication

Are you prepared to dedicate yourself to your goal?

This doesn't just mean turning up and going through the motions. Your trainer will expect you to dedicate yourself to your goal in both your body, and your mind!

Don't worry, they'll expect a slump and they'll be there to support and encourage you, but they don't expect to have to cheer someone up every time they show up for a session.

You're well able for it, so make sure you sure them that!