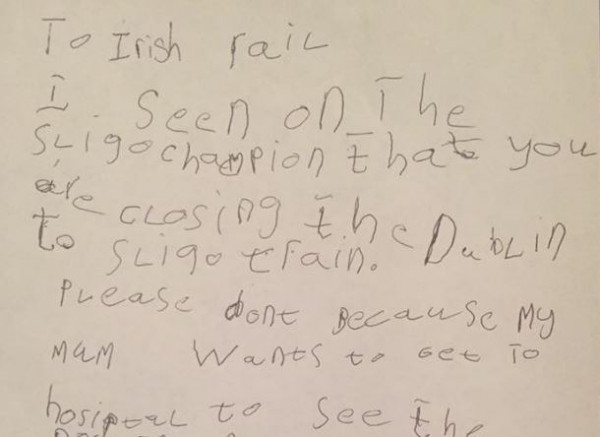 When Darragh Walsh read that Irish Rail were considering closing their Dublin-to-Sligo route, he felt like he needed to do something.
So he did.
Taking pen to paper the six-year-old from Sligo decided to write a letter to share his fears at the prospect of the route being cut.
"I seen on the Sligo Champion that you are closing the Dublin-to-Sligo train," he wrote.
"Please don't, because my mum wants to get to the hospital to see the doctor.
"Please don't close the train."
Darragh's cousin Rachel Cavanagh shared the letter AND Irish Rail's heartwarming response to the youngster's wonderful letter on Facebook.
"Today, Darragh was reading the Sligo Champion and seen on the front page that the Sligo-Dublin train was at the chance of closing," she captioned the post.
"He took it upon himself to send Irish Rail a letter and asked me to send it to them, I took the picture and tweeted Irish Rail.. and just got the loveliest reply!"
"Hi Darragh, we won't close the line, we'll bring your mam to and from hospital and we hope she will be feeling better," they tweeted..
Unsurprisingly, the letter went down a treat with Rachel's followers, with many congratulating Darragh for speaking out.
"Good work Darragh... you will keep the railway opened."
Do you have a story that you would like to share with MummyPages? Click here and you could be in with a chance of winning €250.