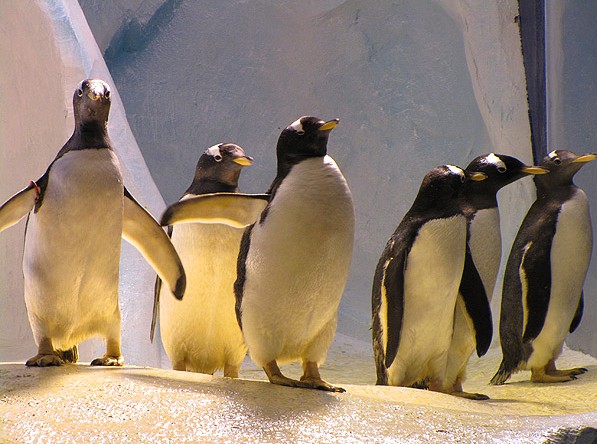 Dingle Oceanworld is now hosting a Polar Penguin Exhibition. The Gentoo Penguins are the third largest penguin species in the world and Oceanworld has six from Edinburgh zoo and six from Oceanpolis in Brest, France.
These penguins can be found on the islands off Antarctica and can be found on the Antarctic peninsula. The Gentoo penguins prefer cold temperatures and their water is 6 degrees. The air temperature varies with the seasons from 6 to 11 degrees and there is a snow machine which produces half a tonne of snow a day.
They weigh around 5kg and are 80cm tall. They eat various types of fish including mussels, krill, and squid. Their black and white colour helps disguise them from predators (not that there is any fear of this at Oceanworld!). The main predators are seals and Orcas. When a predator is looking down for a penguin in the ocean, they use their back to blend in with the ocean floor. When a predator is looking above, the penguin uses its white belly to blend with the sky above. Gentoos are the fastest swimming bird in the world and can hold their breath for seven minutes.
When visiting Oceanworld, you can identify each individual penguin: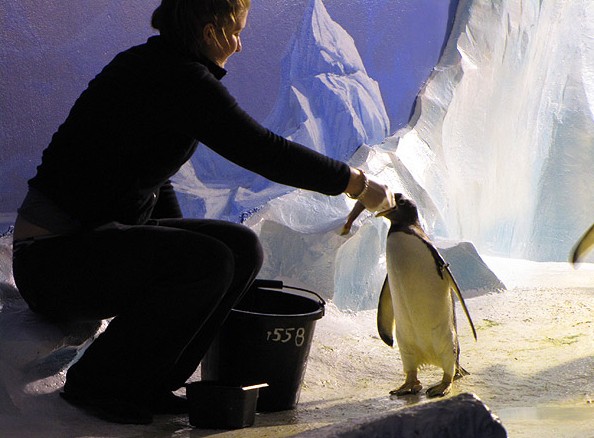 Missy:
She is three years old and has a black/white wing band. She is the friendliest bird in Oceanworld and loves people.
Kerry: She is two years old and has a green/yellow wing band. She is a bossy boots and is very nosy. She spends a lot of time following the keepers. She is also a big Kerry football supporter!

Penelope: She has a brown/red/yellow wingband and is four years old. She is the oldest Gentoo penguin at Oceanworld and is a bit shy. She is also a bit greedy even though she is the smallest penguin in the bunch.

Pip: She is 10 months and has a blue/green wingband. She is the baby of the group and very shy and nervous. She does not like to leave the group. You may also notice her white head band. In young chicks the head band does not reach the eyes on either side. Each year the band gets closer to the eye until it eventually reaches the eyes and the rim of the eye turns white.

Patrick:
He has a brown/white wingband and is four years old. He is very playful but is also very greedy and runs over at the first sign of food. Because of this, he is a bit of a fatty so Oceanworld has to watch how much he eats.
Fletcher:
He is four years old and has a red/brown wingband. He doesn't like people too much and has a temper. He is known for throwing the odd tantrum.
For more information on the exhibition call 066 9152111 or visit
www.dingle-oceanworld.ie/polar_exhibition.html
.