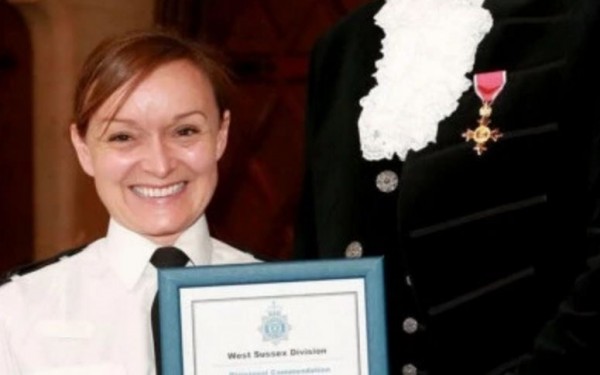 A police officer who saved a baby's life by performing CPR in the back of the police car has been rewarded for her heroism.
PC Amanda Phipps and her colleague PC Mark Robinson pulled over a car that had jumped two red lights only to realise that the couple driving were trying to get their two-week-old daughter to hospital.
Baby Zara Traore had stopped breathing in her home in Crawley, Sussex, her mum, Mariam, explained to Crawley News: "I had given Zara milk and my boyfriend, Mamadou, was then holding her when he suddenly screamed my name and shouted that she couldn't breathe."
"I'd never heard him like that before. He sounded so scared. It was really bad, she was totally silent and her eyes went white. I was terrified."
The couple jumped into the car and, in their urgency to get to the hospital, they ran two red lights. As they were approaching their third set of lights, a police car pulled them over.
"We were shouting at the police that our baby couldn't breathe and the kind police woman quickly realised and told me to calm down and said that everything was going to be alright."
PC Phipps took Zara from her mum, placed her in the back of the police car and started CPR.
Mariam and Mamadou hopped into the car and the police drove the family to the hospital, ringing ahead so doctors would be waiting outside for them.
Explaining about her heroic actions back in August, mum-of-two Amanda said: "I saw the mother get out of the car with the baby in her hands.
"So I jumped out of the passenger side and got in the back and she got in the back with me and gave me the baby. You forget how tiny they are. It was not quite a rabbit-in-the-headlights moment and I just said I would try.
"She was not breathing and I just thought I had to get some air in, so I did some rescue breathing."
Thankfully, baby Zara made a full recovery and Amanda has been awarded a commendation by Sussex Police for her life-saving actions.
SHARE to send well done messages to PC Phipps.