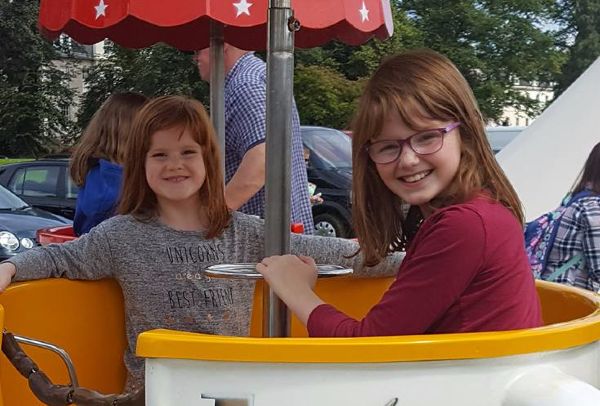 Police in Scotland are appealing for information regarding two missing children, who were last seen travelling to Northern Ireland with their father.
Grace Elizabeth McKinney, 8, and Kara McKinney, 5, were last seen in Alyth, Scotland, and are thought to be with their dad, Michael McKinney, his girlfriend, Martina, and her young son Woody.
Police are eager to trace the girls, who are believed to be travelling in a cream-coloured Elddis Autoquest motorhome.
The girl's mum, Victoria McKinney, desperately appealed for help finding her daughters on Facebook, calling them "highly vulnerable".
"My two daughters Grace McKinney (8) and Kara McKinney (5) have been missing since Thursday morning. Were visiting their father for a week but they have all disappeared, seen leaving his flat in Alyth early Thursday morning. Travelling in an Elddis Autoquest campervan which is creamy/green in colour, very old and rough looking, reg H36 PBO.
"They will be with their father Michael McKinney (5'10, grey hair worn in a top knot with shaven sides and a goatee) and his Czech girlfriend Martina (5'5 with shoulder length dark brown hair and heavy build) and also her three year old boy Woody who has blonde hair.
"They will also have a white staffy dog with them. If you have any information please let us know. Police are treating the children as HIGHLY VULNERABLE missing persons. Please call police on 101 if you have any relevant information."
"I have an incident number which you can find on the Tayside Police page along with an appeal for information on the girls whereabouts. If you have no help to offer i.e sharing then do not comment. Thank you," wrote the concerned mother.
Police said the group were believed to have travelled to Northern Ireland on Thursday, August 10, most likely in their campervan.
Grace is described as 4ft 10in and slim with red/auburn hair, and Kara is 4ft with red/auburn hair. Police are making "relevant enquiries" with their counterparts in Northern Ireland.
Anyone with information is asked to contact Police Scotland on 101, quoting incident number 3165 11/08/17.
We're hoping and praying that the two girls are returned to their mum, safe and sound.