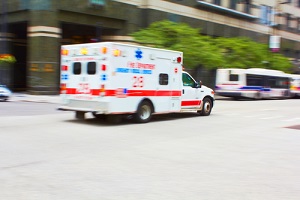 Premature twin baby girls have died and their mother has been left seriously ill in hospital after paramedics were prevented from getting into their flat.
Jocelyn Bennett, who was 32 weeks pregnant, contacted emergency services after experiencing severe pain.
While an ambulance arrived outside her Birmingham home 12 minutes later however, the paramedic could not get in the building, with Ms Bennett too weak to buzz them in. Her partner was away at the time.
It was half an hour after the initial call that the paramedic finally gained access to Ms Bennett, who had suffered from a placental abruption causing her to prematurely give birth to baby Melody. Baby Rose was later delivered via C-section.
Both babies tragically suffered multiple organ failure, and their life support machines were reportedly switched off on Tuesday.
Ms Bennett's family told the Birmingham Mail that she remains in a coma after suffering severe blood loss.
Speaking after the tragic incident, the ambulance service said: "Crews had difficulty getting into the building. They tried to contact all of the other flats within the block, all with no answer. The control room contacted the patient's parents and partner by telephone."
An investigation into the incident is underway.