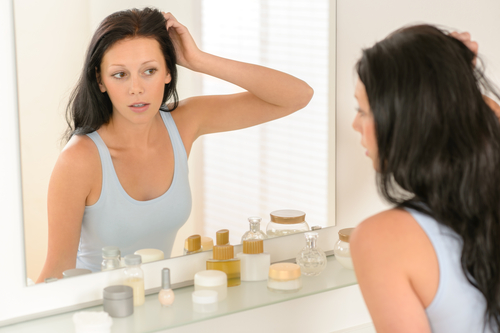 Whether you have always been prone to greasy hair or if it is a new thing, it can be really frustrating trying to resolve it once and for all. Rather than resorting to wearing a hat or head scarf everyday, thankfully, there are a number of things you can do to minimise it.
Use a treatment
Greasy hair can actually be caused by a build up of shampoo, conditioner and oil so, at least once a month, indulge in a hair treatment to remove any residue on your scalp.
Rinse with cold water
After you have washed your hair, give it a quick rinse with some cold water. While this is not particularly nice if you are in the shower, it can stop glands producing sebum which makes your tresses look greasy.
Rinse, rinse and rinse some more
If your greasy hair is a new phenomena it could simply be due to you not rinsing all the shampoo or conditioner out properly. To stop this make sure you are rinsing correctly. And give it another rinse just incase.
Dry shampoo
Over-washing can actually irritate your follicles, causing an over production of oil, so try to only wash your hair every second day. If your locks are is noticeably greasy on your non-washing days, you can use a dry shampoo to absorb any oil. There are numerous types available and you can even get one that smells nice.