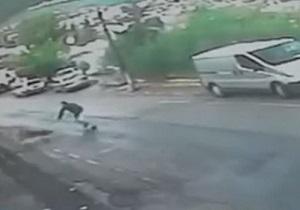 Recently we saw a buggy
flying out on to the tracks at a subway station in New York
, while more footage from Australia showed
a child thrown onto train tracks
after its grandmother looked away briefly.
This week, footage has emerged of the moment a quick-thinking fisherman in Turkey saved a baby from certain death.
In the video footage, which has gone viral around the world, the man is seen preparing to catch a baby buggy as it speeds down an incline and towards the steep drop of a gorge.
The man manages to catch and stop the buggy, while two-year-old tot Ali Ceyhan inside goes flying onto the pavement.
The man picks up the baby as shocked observers start running to the seen to help.
Thankfully, reports are claiming that the two-year-old was unharmed except for some minor scrapes and bruises.
Check out the terrifying moment in the video below.