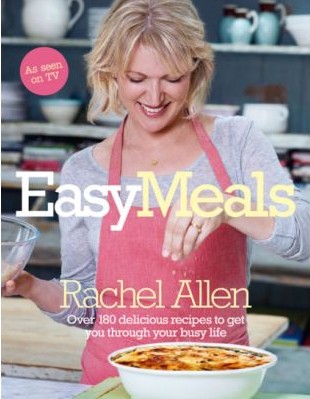 Rachel Allen's latest book, Easy Meals, is ideal for mums who are looking for simple, family recipes. With 180 recipes to choose from, these delicious dinners are doable for even the busiest mummy. Whether you want to put together a quick supper, or a massive feast for a special occasion, Rachel has it covered.
'Easy Meals' takes you from preparation to the dinner table in simply steps and offers lots of tips and menu ideas for dinner, lunch, brunch, and desserts. This wholesome book is well thought out and accessible, so if your cooking skills are fairly basic, you will be able to create a lovely meal with little fuss.
What's great about 'Easy Meals' is that it offers recipes that will solve common cooking problems which mums encounter on a regular basis.
The 'Store Cupboard' section is for those times when you don't have time to go to the shops (or simply don't have the energy for food shopping) and need to make a meal out of whatever is in the fridge. These recipes are very inventive so even if all you have in the press are some lentils and rice, you can create a delicious meal. Recipes include Spiced baked eggs, Baked mushroom risotto, and Vanilla buttercream squares.
The 'Fast and Fabulous' section does exactly what it says on the tin. These recipes can be made in under half and hour and is perfect for when you're rushing in the door but still want to create a special meal. The Five-minute pea soup is just as fast as opening a can but is far more delicious. Scallops mornay is a classic French dish that sounds impressive but is seriously easy and is ideal for serving at a dinner party.
'Five Ingredients or Less' is perfect for first-time cooks who find huge lists of ingredients a bit intimidating. These recipes need minimal preparation and use the right five ingredients so that flavour isn't compromise. Included in this section is Fennel baked fish, Rack of lamb and Chocolate mousse cake.
'No Cook' is a section dedicated to raw food dishes. While you may think this section is more fitting to summer meals (we all enjoy a hot dinner in the winter months), these recipes are extremely healthy and are perfect for if you only want something light to eat. Here you will find salads, gazpachos, sandwiches and desserts. So whatever your reason for not taking out the pots and pans (perhaps the winter weather results in a few power cuts), you'll find lots of inspiration here.
So whether you are an experienced cook or a beginner, you will find plenty of fantastic recipes with 'Easy Meals'. With gorgeous photos, simple instructions and a huge variety, this book is a must have for every mum.
'Easy Meals' by Rachel Allenis published by HarperCollins. RRP €25