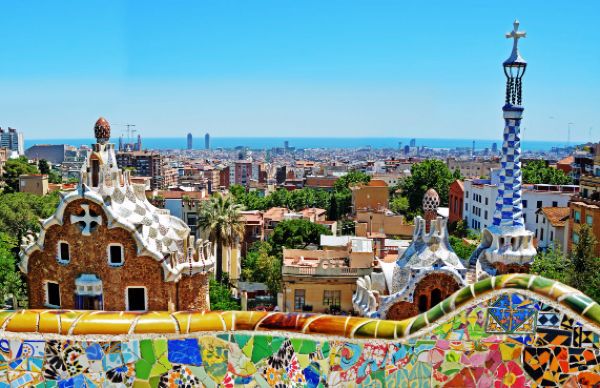 We are so lucky to live where we do, just a stone's throw from some of Europe's most beautiful cities.
There is no need to need to jump on a long haul flight to the tropics (especially if you have a couple of kiddos!) when you have the best of culture and excitement on your door step!
This week, we decided to explore the many amazing kid-friendly attractions that the beautiful city of Barcelona has to offer - and it did not disappoint.
A vibrant destination bursting with culture, delicious food and so much excitement, Barcelona is the perfect spot for a family holiday!
Read on, and be ready to pack your bags:
1. Embrace Your Sweet Tooth
Fun fact: kids love sweets (shocking, we know!)
Anyway, while abroad it can be nice to let the little ones indulge a bit more than usual, and Papabubble is the prefect place to do so. Papabubble is a candy shop in Barcelona opened by two Australians back in 2004. Creating delicious treats from water and glucose, you can watch how they make their delightful creations.
Live your very own Willy-Wonka experience, in the heart of Barcelona.
2. Just Keep Swimming
If you and the kids have had your fill of sight seeing and exploring, why not kick back and relax by the pool? Barcelona has many public city pools, such as Club Natació Atlètic-Barcelona, the Piscines Bernat Martorell! Alternatively, you could head down to any of the lovely sandy beaches stretching northeast from the Port Olímpic marina. It really is a city that has everything!
3. Ramble Around La Rambla
Explore Barcelona's most famous street, La Rambla, where you can get a great insight into Catalan culture. Set between narrow traffic lanes and flanked by trees, the middle of La Rambla is a broad pedestrian boulevard, crowded every day by tourists and locals. A stroll here is just brilliant, with souvenirs, buskers, street artists, mimes and living statues all part of the ever-changing scene.
4. The Chocolate Museum (YUM!)
This tasty museum tells the fascinating story of chocolate across Europe, from trade to its many, many uses. The museum tracks the origin of chocolate, and examines the importance of confectionery in Barcelona's economy.
It is one of the city's smaller museums, but is in the top ten in terms of visitors. A number of impressive chocolate experiences, from sculptures to paintings with chocolate, are on display. Many of the sculptures are famous Barcelona landmarks made of chocolate. Oh, and of course tastings are very much part of the experience, which is super important.
5. Monkey Around
Children of all ages love nothing more than roaming around a Zoo, and exploring all the wildlife that the world has to offer. Barcelona Zoo is home to over 7,500 critters, from lions to gorillas. With more than 400 species, plus lovely picnic areas dotted all over and a wonderful adventure playground - there is plenty to do and see.
The kids will go mad for the pony rides, the petting zoo and the mini-train that travels through the ground of the Zoo. SO MUCH FUN!
6. Under The Sea
Take a trip to the city's famous aquarium, and enjoy an exploration of the deep blue sea, and all its wildlife. It has the world's best Mediterranean collection and plenty of colourful fish from as far off as the Great Barrier Reef. An interactive zone, called the Planeta Aqua, is host to a family of Antarctic penguins (so fun!) and a tank of rays that the kids can watch close up.