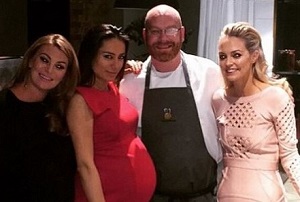 She is due to give birth any day now, but that didn't stop Billi Mucklow from soaking in the rays in her back garden this week.
The former TOWIE star, who is expecting her first child with footballer Andy Carroll, took to Instagram to update her followers on what she is up to as she waits for Baby to arrive.
The reality star looked delighted as she posed for a picture with fiancé Andy, with the pair taking advantage of the fine weather by indulging in a barbecue.
With her little one set to make his arrival very soon, Billi proved that she has every detail under control as she went on to later share a picture of her new pushchair and car seat.
We don't think we have ever seen someone so organised!
Billi's post comes just days after she shared a previously unseen snap from her baby shower, which she used to mark her mother's birthday.
It was at Billi's star-studded baby shower that she revealed the gender of her unborn child, releasing a pretty blue balloon to announce that she and Andy are expecting a boy.
We're sure her social media followers will be the first ones to know when she has given birth – we'll keep you posted!