Recipes by Niall Murphy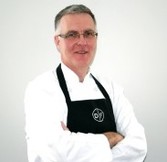 When Joe Doyle, MD of Donnybrook Fair, recruited Niall Murphy to run the cookery school at his flagship Donnybrook store in 2010, it was the start of a fruitful partnership that has seen the DF ethos - 'a gourmet food company dedicated to excellence' - combined with Niall's philosopy that 'simple food, brilliantly done is unbeatable' to triumphant effect.
His first book, The Cookery School, Donnybrook Fair, reflects chef and author Niall Murphy's personal journey with food and the cuisines he has explored throughout his many travels. It explains and demonstrates the skills Niall believes are critical to creating great food, showing the reader how these skills translate to the home kitchen to save time and take the pressure and hassle out of cooking to perfection.