May is one of the best months of the year when it comes to summer sales, and gives you the perfect excuse to take a breather and treat yourself to some much-needed retail therapy.
Shopping locally and within Irish retailers is so important for our economy, and luckily our country is full to the brim of talent and unique aesthetic designs.
We've searched far and wide to find our favourite May sale, and have discovered the #ToMeFromMe campaign from Kilkenny stores, and it's a gem.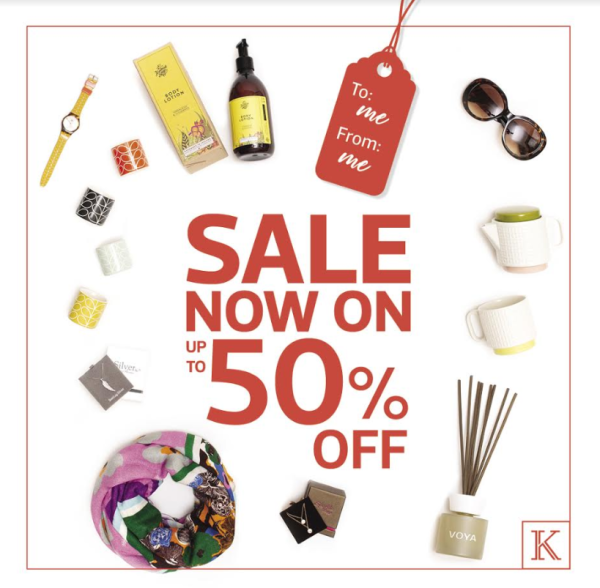 Home of stunning Irish designers and crafts, Kilkenny has decided to give us the ideal opportunity to indulge ourselves with some of their beautiful products at low prices.
Their annual sale ends this Monday, May 6, and reductions are across nearly everything instore; make sure to mark your calendar to get down in time.
With something for every taste and budget from jewellery and accessories to homeware and beauty, enjoy up to 50 percent off Kilkenny's Star Buys.
We're especially enamoured with the crisp, invigorating summer scents from some of the best Irish brands in the business.
VOYA's Ginger Chai & Mandarin diffuser is reduced by 50 percent to €23 each, and it's bound to freshen up your home and turn it from spring to summer in no time.
Freshen up your bathroom with The Handmade Soap Co. Lemongrass & Cedarwood citrus shower gel and hand lotion are down to €6 each, and we can't get enough.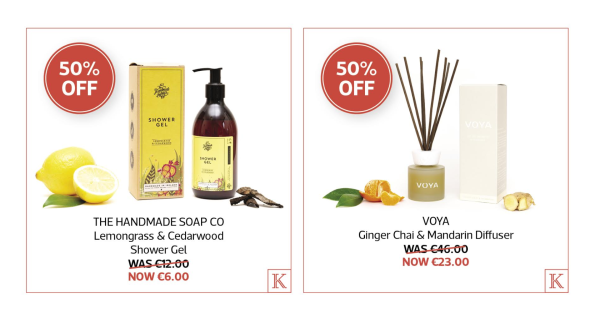 When it comes to interior inspiration, there's no store quite like Kilkenny. We absolutely adore their Orla Kiely goods, especially their beautiful egg cup set of four. It's down to €15 from €30, and it's sure to fly out the door.
Orla Kiely's products are the best when it comes to brightening the breakfast table and adding splashes of colour to your abode. The floral stamped Orla Kiely tea set for one is another favourite of ours, and it's down to just €25.
#ToMeFromMe has something for everyone for the warm, summer evenings; chic print sunglasses, stylish throw scarves, feather necklaces and colourful watch accessories.
Check out the Kilkenny website for more information on the #ToMeFromMe sale, which ends on May 6.
What better way to spend a Bank Holiday weekend? We can't wait to grab these bargains and explore the wonders of Irish homegrown design.