Trilogy's new Vitamin C Microdermabrasion delivers a salon-like microdermabrasion treatment, with an on-trend blend of five AHAs plus mineral-rich pumice, in one dual-action exfoliating solution. It gives both instant, and long-term brightening results, along with improved texture for a smoother, clearer complexion.
This dual-action microdermabrasion facial combines the power of vitamin C with natural chemical and physical exfoliants to break down dead skin cells, revealing healthier, younger looking skin.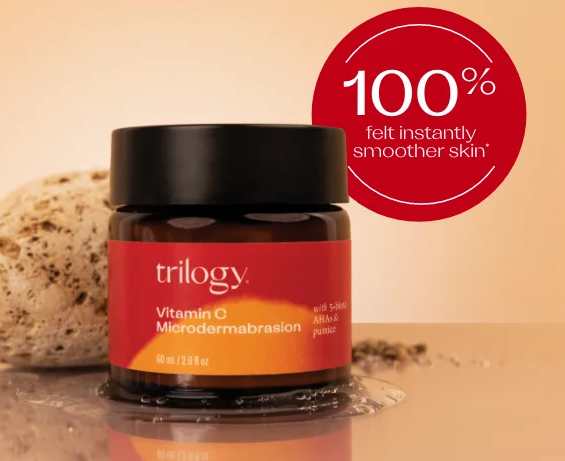 An instant resurfacing treatment, Trilogy Vitamin C Microdermabrasion mirrors the effects of professional microdermabrasion facials but with added antioxidant-rich vitamin C to dramatically improve signs of ageing, sun damage, congested pores and rough texture.
Formulated with powerful natural ingredients like finely milled mineral-rich pumice and a potent blend of 5 different AHAs, it delivers gentle multi-level resurfacing after just one use. Natural oils give Vitamin C Microdermabrasion its vanilla-citrus scent, heightened by mandarin peel oil and orange peel powder.
How to Use
Apply an even layer to clean, damp skin and gently massage to activate the pumice.
Leave on for approximately 3 minutes, allowing the AHAs to work, then thoroughly rinse off.
Use 2-3 times a week for optimum results.
Where to Find
Trilogy Vitamin C Microdermabrasion has an RRP of €27.95 (60ml) and is available from selected health stores and pharmacies nationwide including Lloyds Pharmacy, Meaghers Pharmacy, McCauley Health and Beauty Pharmacy or online at www.evergreen.ie and www.downtoearth.ie.