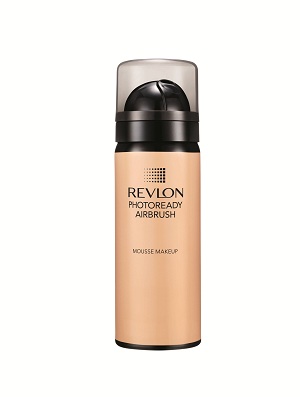 Here at MummyPages we are constantly on a quest to create the perfect day-time makeup look. Caking on the makeup isn't a great look for the school run – but neither is dull, uneven looking skin. There is one product that we have recently started using and it's ideal for a flawless day-time look. Your skin will look fresh, even and smooth with minimal effort.
Revlon PhotoReady Airbrush Mousse Makeup is a lovely, light foundation that gives great coverage but looks natural and feels light on the skin. Instead of having heavy, cakey makeup, this mousse is air-infused resulting in a perfectly even skin tone. This latest addition to the wildly popular Revlon PhotoReady gives the appearance of a perfectly blended, smooth and poreless look – similar to what you would get from visiting a makeup artist, but without the huge expense.
The idea of this makeup is to give an 'Airbrushed' effect. The mousse contains photochromatic pigments that bend and reflect light to minimize flaws in any light setting – whether you're indoors under fluorescent light or exposed to full sunlight. And what we really love about this makeup is that it's so light in texture that is you barely feel like you're wearing make-up at all, so it's perfect for everyday wear.
Before applying, make sure to shake the bottle well. Press the pump gently to disperse a dime sized amount of formula and blend starting in the centre of the face and moving outwards.
Revlon PhotoReady Airbrush Mousse Makeup is available in Vanilla, Shell, Nude, Natural Beige, Golden Beige and Caramel, with an RRP of €19.40.
Available in leading pharmacies nationwide.