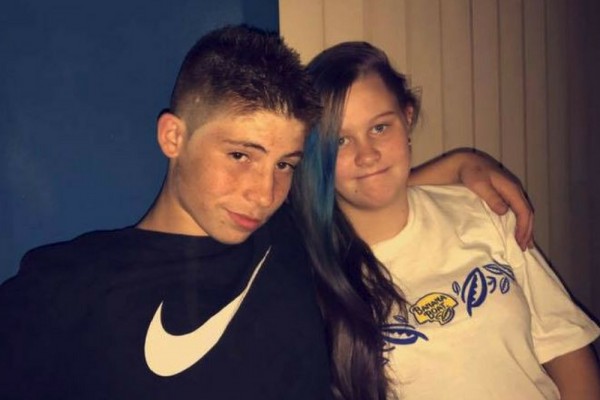 A young couple who sparked a panic after taking their newborn daughter from hospital and disappearing said they just wanted to spend Easter with their daughter before she was taken into protective custody.
Jayden Lavender, 14, and 15-year-old girlfriend Jenifer Morrison smuggled their baby Aria out of a Sydney hospital late on Thursday night after they were told they would not be allowed take their baby home with them.
The teens caught a train and bought a tent, sleeping bag and camping supplies in a supermarket. They then spent the rest of the night camping in Willmot, in west Sydney, while police mounted a massive manhunt.
They were later found and little Aria was taken back to hospital, unharmed by her experience. The teens were interviewed by police but were released without charge.
Jayden said the couple wanted to spend Easter with their daughter as they are Christian, according to News.com.au.
"All we wanted to do was spend Easter with her, we're a Christian family, that's the one thing I love — we go to church and everything," Jayden said.
His girlfriend Jenifer fought back tears as she spoke and said she felt "broken" after being separated from Aria.
"I would be a good mother for her, I just want her home and safe," she said.
The teens got engaged after Jenifer became pregnant but couldn't get married as they are both under 16.
However, Jayden's mother Tracy Lavender says she would give them permission to get married. Jenifer doesn't have a stable family home and currently lives with Jayden and his mother.
They're young, yeah, they made the mistake of being young," Ms. Lavender said.
"Jayden had a choice to be a proper father and support his child or walk away. He chose to be a man and stand by his girlfriend. They're good parents", she insisted.
"He was at the birth and he hasn't moved from her and that baby since she was born."
She defended the runaway teens, saying: "You're talking about two kids that have just had a baby, that just wanted to stay with their baby — that's all it comes down to."
Ms. Lavender said she would stay by Aria's bedside for as long as the tot is in hospital. "While she's in hospital I'm going to be there by her side", she vowed.
Initially, police thought the couple were travelling with an unknown man but Jayden's mother says this was a just a man who helped Jayden with his bags at the hospital after seeing the young teen in tears.