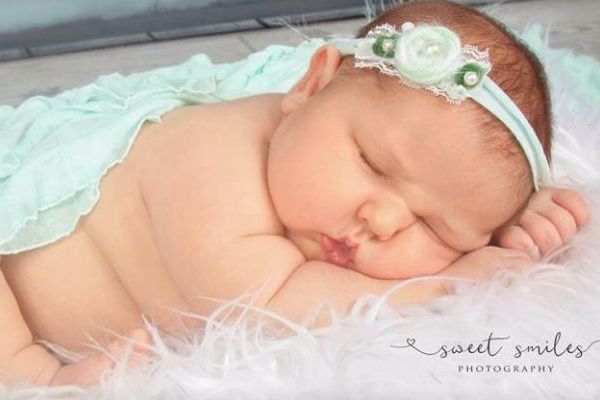 A Florida mum got the shock of her life when she saw her baby for the first time after giving birth.
Little Carleigh Brooke Corbitt was born last month and weighed a whopping 13 pounds five ounces.
Mum Chrissy Corbitt, 29, was expecting a big baby - but not one this big!
"When the paediatrician showed her to me across the curtain, I was like, 'Oh my gosh, she's huge,'" Chrissy from Orange City, Florida, told InsideEdition.com. "I couldn't believe it. It was like I delivered a toddler."
Chrissy's obstetrician agreed. He said Carleigh was the biggest baby he had ever delivered.
Chrissy is a mum to three older children, all of whom were big babies, weighing nine to 10 pounds each.
Dad Larry said: "My wife wasn't getting any bigger, she was the same weight for about a month.
"But the belly was getting bigger and bigger. It was like she had a huge beach ball, and it was getting more and more inflated."
She gave birth via C-section and was astounded to hear the medical team cheering when little Carleigh was born.
"I heard everybody cheering in the operating room. I've never had that happen before," Chrissy said. She soon realised it was because of Carleigh's impressive weight.
The parents realised they had a dilemma: little Carleigh was far too big for the nappies and baby clothes they'd stockpiled in anticipation of her birth.
They had to call up nappy companies to see if it was possible to exchange their newborn nappies for bigger sizes.
Now aged three weeks old, little Carleigh is wearing baby clothes that would fit a nine-month-old. The couple donated the clothes they'd originally bought to a local church.
Chrissy says her new daughter is a happy and content baby: "She's just a happy baby, she smiles all the time," Chrissy said. "I can't get enough of her."
It seems like large babies are on the increase as just last month another mum gave birth to a 13-pound bub.
Lauren Flaugher's little boy, Finn, was too big for the hospital weighing scales when he was born. "The scale only went up to 12 pounds, so our midwife looked at me and said, 'We can't use it,'" Lauren, 29, said.
"I thought the scale was broken! But, turns out, Finn weighed 13 pounds at birth, so they had to bring in a bigger digital scale," she added.