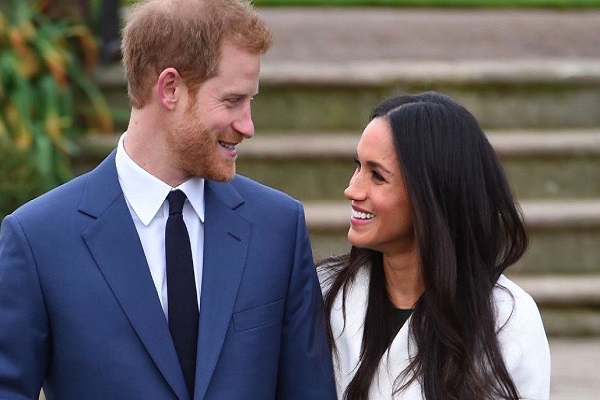 Prince Harry and his fiancée Meghan Markle sat down for their first interview since sharing their joyous engagement news this morning.
Harry revealed that the proposal was a low-key affair. The 33-year-old got down on one knee during a cosy night at their cottage at Kensington Palace.
"It happened a few weeks ago, earlier this month, here at our cottage; just a standard typical night for us."
Meghan added, "It was just an amazing surprise, it was so sweet and natural and very romantic."
The Suits star said yes to Harry's proposal so quickly that he didn't even get a chance to put the ring on her finger: "She didn't even let me finish, she said can I say yes, can I say yes, and I had the ring in my finger and I was like can I - can I give you the ring?" he shared.
The beaming couple shared that they were introduced by a mutual friend last July. After a handful of dates, Harry invited Meghan to Botswana, where the pair camped under the stars.
"It was definitely a set up - it was a blind date!" - Prince Harry and Meghan Markle recount the story of how they met #royalwedding pic.twitter.com/73o2asRSxu

— Sky News (@SkyNews) November 27, 2017
Harry stated that spending time alone was crucial for both of them. The pair shared that they wanted to get to know one another privately.
Despite their long-distance relationship, Meghan shared that they connected quickly. The happy couple never went more than two weeks without seeing one another.
They both admitted that they knew very little about one another when they first met. Meghan didn't grow up with the same understanding of the royal family as people in the United Kingdom would have.
"Everything I learned about him I learned through him, through what he shared with me," shared Meghan.
Harry said that it was hugely refreshing to meet Meghan. The pair got to know each other organically, but Harry warned the 36-year-old about what she was getting involved in.
He said, "I tried to warn you as much as possible. Both of us were totally surprised by the public's reaction."
Prince Harry reveals how he proposed to Meghan Markle #royalwedding pic.twitter.com/j18ahPK62S

— Sky News (@SkyNews) November 27, 2017
Meghan revealed that she can't wait for her new role, "I don't see it as giving anything up. It's a new chapter."
Harry expressed that keeping their relationship private only strengthened their bond. Staying out of the public eye made them grow closer in a short space of time.
Meghan and Harry have enjoyed many quiet nights at home where they cook together. They also shared that they often go on long country walks and enjoy cosy nights in front of the TV.
The smitten couple said that they will always be there for one another, "Whatever we have to tackle together we'll always be us as a team."
Unfortunately, there was one special family member that wasn't here to celebrate the momentous occasion- Harry's mum- Princess Diana.
Prince Harry declared himself "thrilled" and Meghan Markle said she is "so very happy" as they made their first public appearance since announcing their engagement (: Dominic Lipinski/PA Wire) pic.twitter.com/XdHkqWkvgp

— Press Association (@PA) November 27, 2017
The prince shared that he missed his mum a lot on this special day, but he knows that she's celebrating with them somewhere.
Harry believed that his mum and Meghan would have been "as thick as thieves" if she was still here today, "She'd be over the moon for me, but she would have been best friends with Meghan."
Diana may not be here to celebrate with her son and his fiancé, but Harry said that Meghan's engagement ring features two sentimental diamonds.
"The little diamonds either side are from my mother's jewellery collection to make sure that she's with us on this - on this crazy journey together," he added.