The parents of a four-month-old baby who was kicked off a Disney cruise ship after falling ill have spoken of their shocking experience.
Jennifer and Dan Moak, from California, brought their little one along on the cruise to The Bahamas, when she fell ill.
The Moaks brought their daughter to the ship's doctor for treatment, but they were later contacted by a staff member who told them the child would have to leave the ship.
Last summer, the minimum age of a passenger was changed from 12 weeks to six months, but passengers had been assured that existing bookings with passengers younger than six months would still be honoured.
However, the parents were told that while a hospital would be a safer place for the child, her age also meant that she should not be on the ship in the first place.
Mum Jennifer said: "He [the staff member] said because of her age, she wasn't supposed to be on the ship and that they would be — I think the word that he used was 'terminating' our stay on the ship."
After spending $1,000 a night on their original accommodation, the Moaks were removed from the ship and then checked into what Dan described as a 'fleabag motel'.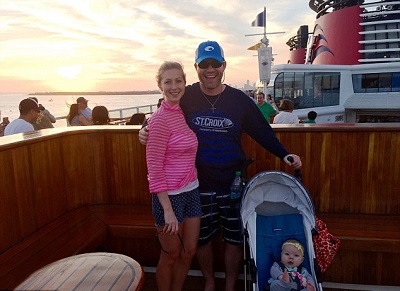 The parents were also forced to take their child into their bed with them, with no baby cot provided in the bedroom.
After checking her into hospital in The Bahamas, the Moaks' daughter was diagnosed with wind, but the couple were still hit with a bill of almost $2,000.
Speaking after the incident, Mrs Moak's father, Dave Berg, said: "No one can believe that Disney would send a four-month-old baby off into the dark in a foreign country that they say in their brochures is dangerous."
The company have stuck by their decision, insisting that they made the move over concerns for the baby's health.