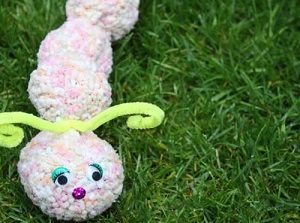 It doesn't matter how hard you search, high and low, sometimes it seems as though that one sock floating around the underwear drawer is just destined not to find its twin.
Indeed, if you are anything like us, you will have a pile of singular socks just sitting in the cupboard, serving absolutely no purpose. So why not use them up for a fun craft project?
What you will need:
A sock
Stuffing
Elastic bands
Pipe cleaners
Googly eyes
Glue
Method:
Pack a small measure of stuffing into the toe of the sock and fasten with an elastic band. This will create the caterpillar's head.
Repeat the stuffing step, fastening with an elastic band as you go, creating the different sections of the caterpillar's body.
Once the body is made, twist a pipe cleaner into the shape of antennae and attach around the head of the caterpillar as pictured.
Using a dab of glue, attach the googly eyes to the front of the caterpillar, to give him a face.
If you want to go all-out, why not cut some felt into wing shapes and watch your caterpillar transform into a butterfly?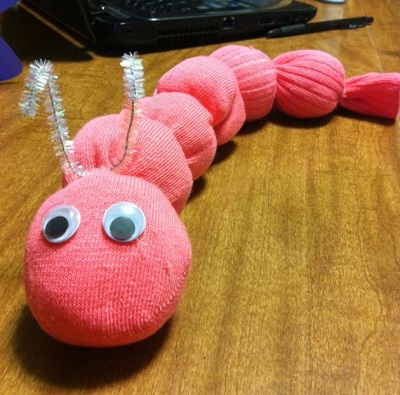 Tip: Experiment with different colours and designs to create different insects or animals. For example, a red sock with some black felt spots will make a beautiful ladybird.
From old jewellery to jars and pots, there is always a fun craft idea waiting to happen with those odd bits and bobs floating around the house.
Images via Pinterest