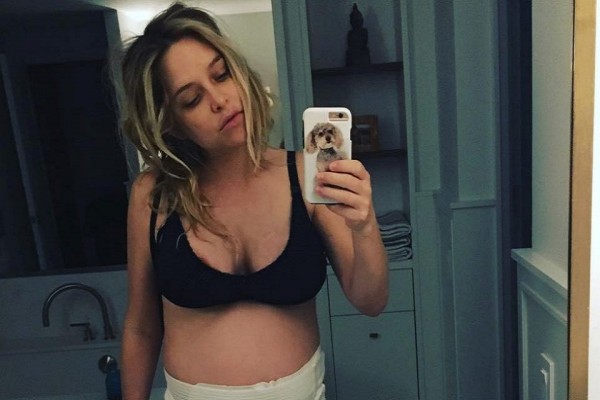 She allowed her husband to live-stream her first birth experience, so we're not in the slightest bit surprised by Jenny Mollen's candour in her latest Instagram post.
The 38-year-old actress has impressed her fellow mums today by sharing a no-holds-barred photo of herself in her post-birth underwear and padding.
"Post-op chic," she wrote, to the delight and admiration of her 223K-strong legion of Insta-fans.
"YES. Thank you for being so f***ing real," replied one follower.
Another chimed in with, "Thank you for showing the joys of giving birth. Love it."
Of course, plenty of mums have been able to relate to Jenny's experience. Another woman added: "Ouch, I remember that feeling…but the love you also feel is so much more powerful, it helps you through the pain."
Jenny and husband Jason Biggs welcomed their second child, son Lazlo, on October 2. The tot tipped the scales at 7lbs 1oz.
The couple are, of course, also parents to three-year-old son Sid.
Jenny and Jason are clearly over the moon with their new arrival, and have shunned the mega-bucks magazine deals to instead share a series of photos of their newborn.
In one, Jenny is still in her hospital gown, lying in bed; while Jason cradles their youngest in his arms, wearing blue scrubs.
Another candid shot shows the couple right after Lazlo entered the world, with the paper screen still up over Jenny.
We love how joyful the family looks in all of these photos – we're thrilled for them.
Also, kudos to Jenny for getting real about the labour process, and being so up-front and honest with her followers. We salute her!