For as long as I can remember I've wanted to be a Mum. No interest in weddings, no dreams about big white dresses or tiaras. But ever since my Mum brought my younger brother home from the hospital, when I was only five years old, I've been besotted with babies.
As an older sister, I looked after my siblings with enthusiasm. I babysat for all my cousins, the neighbours' babies, friends of my parents. Then when my own family and friends starting having babies I was the first on their doorstep when they came home from hospital (after a respectable interval of course!).
The chubby legs, the baby smell, the downy little head all work like a tonic for me. It's impossible for me to be anything but happy with a baby in my arms. Toddlers are fun and funny in equal measure. And children? Usually, at a wedding, christening or any family function, I could be found at the children's table. Most of them can be much better company than adults in my view.
So how did I become an older mum? Barely (and luckily) managing to have my own beautiful baby before it was too late. As my friends paired off and gradually had families they watched me expectantly. But I sailed through my twenties and most of my thirties blissfully single and in complete denial of the passage of time. As a foolish romantic I always held the notion that romance should just happen. So, I made very little effort to actually make my dream of having a family a reality.
But fear not dear reader, fate intervened and I managed to fall in love just in time. However, I would NOT recommend this approach. It's all very well being romantic but if you really want to meet a partner and have a family, like every dream in life, it does require SOME effort. Socialising, making attempts to meet new people, giving potential partners a chance even if they don't set your world on fire at first meeting. All stuff at which I was beyond useless. I had lots of dreams growing up and having children was up there in the top three. But I sort of assumed it would just happen (fortunately it did eventually, but only in the nick of time).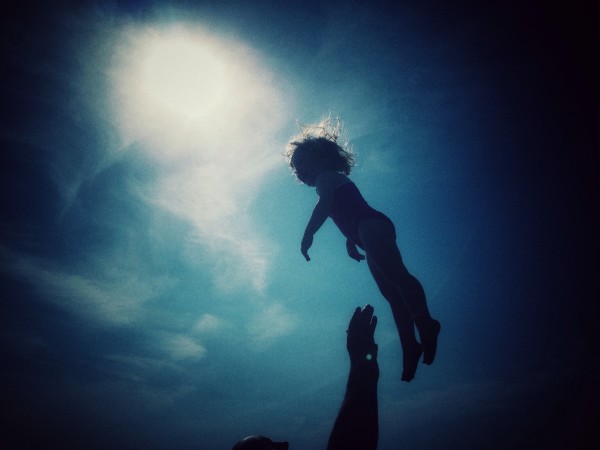 I became aware that I was of advanced maternal age(!) during my pregnancy but everything went so well that I didn't really give my age a second thought. And now it's only when I find out the ages of other mums that I meet (in real life or online) that the realisation dawns on me as to how old I ACTUALLY am.
I feel eternally twenty-eight in my head and becoming a mum has only reinforced that feeling. Having a baby gave me a completely new lease of life. Firstly giving birth made me feel like Wonder Woman, as did breastfeeding. Now that my daughter is older I'm making so much more effort to eat healthily because I want to lead by example, and exercise? Well, that just comes automatically with the job of looking after a small child!
She has also given me a whole new perspective on life. Seeing everything again through my daughter's eyes makes even the most mundane of experiences seem exciting. Suddenly even the automated checkout in the supermarket is an adventure! Becoming a mum has also provided the impetus to really embrace other dreams I had put on the back burner. My daughter provides a huge inspiration to me and I've returned to lots of creative activities that I had long abandoned. I've started drawing and painting again, taken up photography (I hardly ever took a photo until she was born) and of course, I've started writing again.
Naturally, there are moments I can't help but think if only I were ten years younger. Maybe then I could have more beautiful daughters and sons too. But those moments are few and far between. I had reached a point in my life where I had resigned myself to the fact that there would probably be no children at all. Every moment I spend with my little girl makes me feel so incredibly lucky that there's not much room for regrets.
So, if anyone asks me what it's really like being an 'Older Mum'. My answer? Oh, I have no idea, I'm only twenty-eight don't you know?!