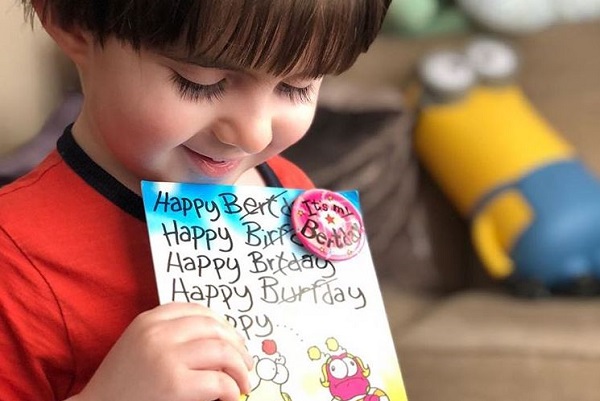 Earlier in the month, Irish blogger and mum Yavanna Keogh reached out to the public to help make her terminally ill son's 4th birthday extra special. She asked people to send birthday cards to her son Oscar, who has been diagnosed with an incurable brain tumour.
On the eve of her son's birthday, Yavanna penned a touching thank you note to the people who made his 4th birthday memorable.

She shared the sweetest snap of Oscar holding one of his birthday cards, "‪We decided on the idea of a card drive because Oscar should have had countless years ahead of him to make friends in school and college and get up to all sorts of mischief, to travel the world and meet new people and have adventures."
His mum shared that her son may not get the opportunity to travel the world and meet new people, but in a way, he has through the card drive.
"If he won't get a chance to do that, the world and all the people he could have known had to come to him. And that was you. 3,422 cards, postcards, letters, banners, posters and presents are sitting here on the eve of his birthday," Yavanna said.
His mum opened up about her son's harrowing illness: "You're all the people now he would have befriended in his life and we're so devastated by all of this, more than we can bear."
Despite their heartache, Yavanna expressed that they are beyond thankful for every single person that sent a card to Oscar.
"You all came out in force to support us and to celebrate his life as he turns 4 tomorrow. Thank you so much from the bottom of our hearts to everyone who took the time to reach out x," Yavanna added.