This year it's about time we take Halloween back from the kids, and indulge in some grown-up fun in the form of these spooky-licious cocktails. Put the munchkins to bed and try your hand at one of these sinfully delicious recipes, which are sure to put you in the Halloween mood this weekend.
After all, there is no better way to get in the spooky spirit then by setting the mood with creepy cocktails.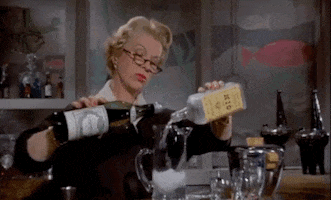 We have scoured the lands for the most delicious recipes around and sinisterly served, of course.
So scroll down to find your favourite, whether it's for pre-drink fun or movie marathon sipping.
1. Butterbeer
Ginger beer, cream soda, and butterscotch ice cream
You can't associate Halloween without the magical world of Hogwarts. Every time Harry and his friends took a gulp of butterbeer, it set off some serious cravings. And this delicious recipe tastes just as good as it looks. Recipe here.
2. Poisoned Apple
Tequila, apple cider, pomegranate juice, and dry ice
This haunting drink appeals to the sweeter senses. It's dark red juices and ominous smoke (from the dry ice) make it the perfect Halloween cocktail. It will definitely keep guests guessing about its hidden intentions. Recipe here.
3. The Zombie
Rum, apricot liqueur, orange juice, and lime bitters
Be careful with this drink in disguise. It's fruity flavours mask the alcohol's strength beneath, making it too easy to get drunk in a short amount of time. It's one of those ones that sneak up on you, but oh, it is so worth it. Recipe here.
4. The Gravedigger
Whiskey, hard cider, and ginger ale
A simpler recipe for a whiskey personality. The apple and ginger truly make this a seasonal sipper and a tasty Halloween treat. We recommend serving it in a skull tumbler to stay on theme. Recipe here.
5. Black Magic Cocktail
Black vodka, lime juice, simple syrup, and Wilton Edible Pearl Dust In White (found in fancy cake deco shops)
Black as night and dripping with dark magic, this cocktail looks like it was brewed with unicorn dust in a witch's cauldron. It will have all your victims (whoops, I mean guests) engorging themselves on each mouthful. Recipe here.
6. Evil Eye
Baileys, vanilla pudding, black liquorice, milk, and green food dye
This cocktail takes a bit more effort but it results in the most wonderfully grotesque drink we've ever seen. The floating, edible eyeball bobs around the glass with each move, making it seem like it's still attached and blinking. Recipe here.
7. Blood Orange Sangria
Pinot grigio, brandy, blood oranges, apples, strawberries, raspberries and club soda
A drink that is sickly sweet at its core, this Halloween sangria satisfies wine lovers' deepest desires. Not only will it render you tipsy but it is quite refreshing as well. And the club soda balances the wine for a not so terrible hangover the next morning. Recipe here.
8. Jell-O Jabs
Rum, pineapple juice, gelatin, neon green food dye, sugar, and syringes
Packaging Jell-O shots in a syringe adds a unique spin to this college classic. The tasty recipe disguises rum's strong taste too, allowing these shots to go down easier than ever. (Plus they are easy to stick in your purse for a cheap pick me up at the next pub). Recipe here.
9. Grasshopper
Crème de menthe, white crème de cacao, single cream, mint, and chocolate
This chilling drink comes in zombie green and tastes more like a milkshake than a cocktail. Combining mint and chocolate froth, it will have you licking your lips all night. Make sure to serve it in a clear glass, so you can show off its creepy hue. Recipe here.
10. Blackberry Sage Margarita
Tequila, lemon juice, maple syrup, blackberries, sage, and orange bitters
Add dry ice to this blood red potion for some added drama, but it can stand on flavour alone. The Dracula delight will have you craving another glass of thick and juicy sweetness. And who doesn't love margs? Recipe here.
These Halloween recipes will be the talk of the night and go on to haunt your taste buds for the rest of the spooky season.