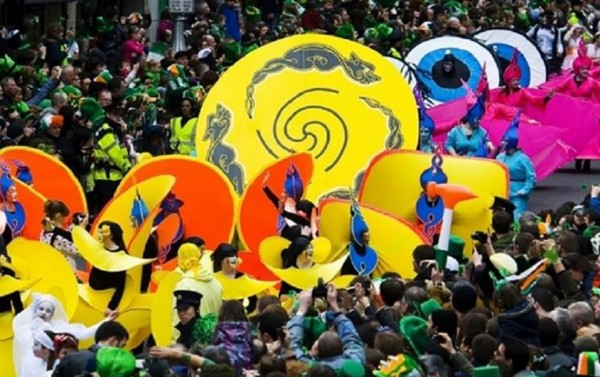 While the parade is a huge part of the St. Patrick's Day fun, it isn't the only thing happening to celebrate March 17th! With a whole host of activities taking place all over the country, there is plenty going on to keep EVERYONE happy.
If you live in Dublin or are planning on heading up to the Capital for the weekend, don't forget to check out the following four FREE events!
1. Festival Céilí in association with Foras na Gaeilge and Today FM
Date: Friday, 18th March
Where: Earlsfort Terrace
​Time: 4:30pm – 7:30pm
Get out your dancing shoes and join in the monster street céilí! Energetic dancers along with a helping hand from expert callers will lead you through dancers such as The Siege of Ennis and Shoe the Donkey. Join the Matt Cunningham Céilí Band and more of Ireland's leading musicians and dancers in getting the street hopping.
2. Festival Big Day Out in association with FM104
Date: Sunday, 20th March
Where: Merrion Square
Time: 12pm – 6pm
Get ready for Merrion Square to be transformed into a day-long street carnival bursting with energy, colour and whimsical antics. Be wowed by sensational theatrics, mind boggling workshops, exciting magic shows and rousing music. Kids can even visit the Keelings Love to Grow Children's Garden and enjoy planting, digging and hands-on workshops to experience the passion of growing at home.
3. Festival Treasure Hunt in association with Dublin's Q102
Date: Saturday, 19th March
Where: City Hall, Dame Street, Dublin 2
Time: Registration at 10am – 1pm
Enjoy the atmosphere at HQ in City Hall with music theatrics and prizes for the best costumes; unlock the city as you navigate the exciting trail and visit Dublin's beautiful historical locations and solve clues in this urban participatory event. The hunt takes 1 hour and 40 minutes, with a special, shorter, mini hunt available for children! To pre-register, click here.
4. The Children's Soapbox
Date: Friday, 18th March
Where: The Ark Children's Cultural Centre, 11a Eustace Street, Dublin 2
​Time: 2pm – 4pm
What does it mean to be a child in 2016? This special event will launch and introduce the Ark's new Children's Council, which gives a platform to children to express their views and wishes for Ireland. The children's hopes and dreams for our nation's future will be shared via soapbox style performances using spoken word, stories and poetry. There will also be music from the RTE children's choir, Cór na nÓg. The choir will perform songs from their own extensive repertoire that complement the words of the Children's Council.
SHARE if you plan on going to any of the above events.