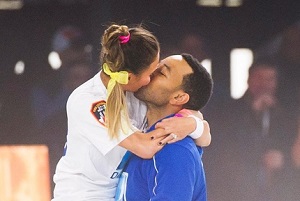 We have already had one lovely piece of baby news this morning, and we are delighted to share another wonderful report with you now.
Following recent high-profile discussions about her fertility issues, model Chrissy Teigen has announced that she is expecting her first child with singer husband John Legend.
Taking to Instagram to share a stunning black-and-white photo of her husband rubbing her stomach, the 29-year-old wrote: "John and I are so happy to announce that we are pregnant. As many of you know, we've been trying to have a baby for a while now. It hasn't been easy, but we kept trying because we can't wait to bring our first child into the world and grow our family."
"We're so excited that it's finally happening. Thank you for all your love and well wishes. I look forward to all the belly touching!" she added.
We are so delighted for Chrissy and John, who have been married for two years.
The lovely news follows a recent emotional appearance by Chrissy on fellow model Tyra Banks' show, Fab Life. In a candid segment, Chrissy urged people to approach the subject of babies with caution, as one never knows what a couple could be going through.
"We would have had kids five, six years ago if it had happened. It's been a process. We've seen fertility doctors," she explained at the time.
Congratulations to the couple!