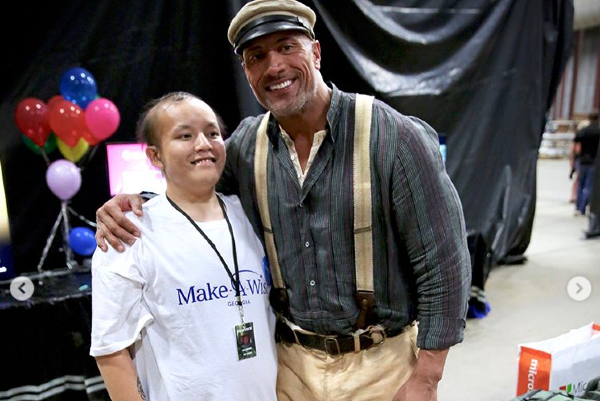 We love Dwayne Johnson.
Not only is he a hardworking actor, but he has managed to find time out of his busy career to make his fans' dreams come true.
Last week, the doting dad visited with children from the Make-A-Wish foundation, but there was one girl who could not make the meeting.
The Rock sent out a heartwarming message to ten-year-old Clara Shields, who had a very special wish - to meet her Hollywood hero, the talented, Moana actor. And although Dwayne could not make it out to her hometown of Alberta, Canada, the father dedicated a moving video to little Clara.
"SURPRISE to a very special 10yr old girl. A 'rush wish' video request came in from MAKE A WISH for an awesome young lady named, Clara Shields of Alberta, Canada who's wish is to meet this big, brown, bald, tattooed dude who's Jungle Cruise wardrobe clearly has some malfunctions," he wrote.
"I'm sorry we didn't get a chance to meet, Clara but I hope this message puts a big ol' smile on your face. Stay strong Clara and sending you so much love and mana your way. ~ DJ xo".
Still dressed in his costume for the upcoming Disney Jungle Cruise film, he connected with Clara, telling her all the things she shares with her hero.
Dwayne pointed out how they are both animal-people and love Fridays the best. The young girl even has a dog called Rockie, named after the legendary actor.
"I think we're twins", he joked with a big smile. "Clara, I'm just sending so much love your way and so much strength and stay strong.
"Surprise! Love ya!" The dad ended the video by blowing a kiss to his biggest fan. What an adorable moment!
Clara, we wish you all the best with your health and hope that this message from your "twin" brought a smile to your face.