Amy Dowden has revealed that she has shaved her head, amid being treated for cancer.
The Strictly Come Dancing professional dancer was diagnosed with grade three breast cancer earlier this year, and is currently halfway through chemotherapy.
Ten days ago, Amy admitted on social media that she was experiencing a lot of hair loss, but that she was still "not ready to brave the shave".
Now, in an emotional video, the 33-year-old has shared that she has shaved all of her remaining hair off.
Taking to Instagram earlier today, Amy posted a video montage of herself getting tearful in her kitchen, with her loved ones supporting her. One by one, her family and friends approach her to cut off a portion of her hair, before the rest of her locks are shaved off.
"The hardest step so far. I tried my best to save it. I know it's only hair but these past few months I've had what feels like so much taken away from me that has made me not feel like Amy," she admitted in her lengthy caption, adding that she "just wanted to keep my identity with my hair".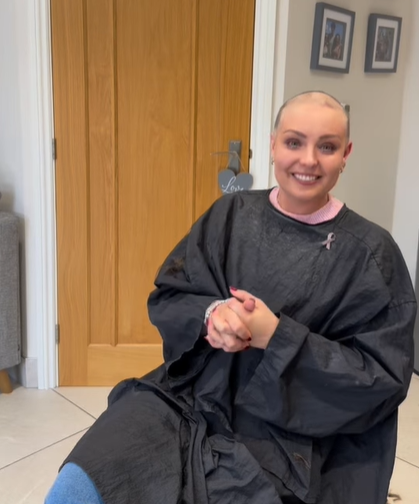 "I've not been able to take control of this journey so far, but as you can see with some of my loved ones I took the courage and CONTROL," Amy wrote with pride.
"It's going to take some time to get use to and learn to love and embrace but, I'm now focusing - not on the hair I'm losing but the hair I'm going to get back and the happy dancing, tea lover who talks way too fast," she teased, noting that she can "see the finish line".
"This for me was a hurdle I couldn't even bring myself to think or speak about. I've done it and I've also crossed the halfway chemo line! I'm feeling empowered and positive!" Amy concluded.
Many of Amy's fellow Strictly pros have since reached out to send their support.
"Love you so much," replied Karen Hauer.
"The strongest woman I ever met!! love you so much amy!!" added Graziano Di Prima.