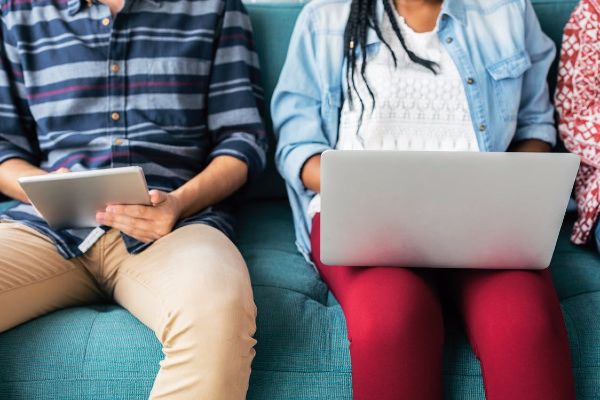 Yesterday evening, two teenage girls were denied entry on to a United Airlines flight because they were wearing leggings.
A third girl, who was just 10 years old, was wearing grey leggings, and had to cover herself up with a dress before she was allowed to board the plane.
Shannon Watts, who is the founder of the Moms Demand Action group, was boarding the same flight as the young girls, and began tweeting her opinions on the matter.
"Three girls inspected for wearing perfectly acceptable leggings. Two not allowed to board. I don't care what kind of passengers they were," she wrote on Twitter, instantly sparking outrage among her 34,000 followers.
Shannon, who is mum to four daughters, continued: "This behaviour is sexist and sexualises young girls. Not to mention that the families were mortified and inconvenienced."
The airline responded to Shannon's tweets, stating that: "United shall have the right to refuse passengers who are not properly clothed via our Contract of Carriage. This is left to the discretion of the agents."
The airline then highlighted the fact that, according to their customer contract, a passenger can be refused entry to a plane if they are "barefoot or not properly clothed" - but there is no explanation as to what defines "properly clothed".
@united @shannonrwatts Rule 21 implies removal of passenger once aboard carrier. Also, 'properly clothed' isn't defined. Leggings improper? pic.twitter.com/pgp4wLEOSA

— wyatt nerp (@reaganschmagan) March 26, 2017
Jonathan Guerin, a spokesman for the airline, confirmed to The Washington Post that the two teens were not allowed onto the flight, because they were travelling using a United employee pass and "were not in compliance with our dress code policy for company benefit travel".
"Our regular passengers are not going to be denied boarding because they are wearing leggings or yoga pants, but when flying as a pass traveller we require them to follow rules, and that is one of those rules," he said.
Despite the fact that the airline backed up their reasoning, the people of the Internet were less than impressed with what can only be described as sexist behaviour.
Even celebrity mum Chrissy Teigen weighed in on the issue, tweeting to her 4.4 million followers: "I have flown United before with literally no pants on. Just a top as a dress. Next time I will wear only jeans and a scarf."
I have flown united before with literally no pants on. Just a top as a dress. Next time I will wear only jeans and a scarf.

— christine teigen (@chrissyteigen) March 26, 2017
Comedienne Sarah Silverman also had her say on the issue, mentioning the fact that she will be changing her upcoming flights to avoid travelling with the airline in question.
Hey @united I fly a LOT. About to go on tour all April and changing all my @united flights to other airlines

— Sarah Silverman (@SarahKSilverman) March 26, 2017
What are your thoughts on this matter, mums?