At least seven people have reported serious side effects of Galphers Junior Ibuprophen after one mother took to Facebook to voice her concerns.
Alison Smith's gave her four-month-old son, Jensen, 2.5ml of the medicine last month, but the infant was rushed to hospital after becoming floppy and unresponsive.
Frighteningly, doctors spent 45 minutes working on him after he lost consciousness.
In a Facebook post, which has been shared over 45,000 times, the concerned mum wrote: "Following a short episode of sickness, we purchased a bottle of Galpharm infant ibuprofen for our three-month-old son, Jensen."
"As we gave it to him, he screamed and tried to push the spoon away, but we persisted because hey, he needs his medicine!
"We gave him the dose stated on the box, 2.5ml. As he had protested so severely to taking the medicine, I decided to try it myself."
The mum immediately noticed that the inside of her mouth was reacting to the medicine, going "numb and sore."
Her partner also tried the medicine, and immediately developed a blister in his mouth from the product.
"Our attention was now fully on our small baby... he had taken much more medicine than Adrian and I, but was now drifting off to sleep."
"We couldn't wake Jensen," she explained, before rushing her child to the hospital.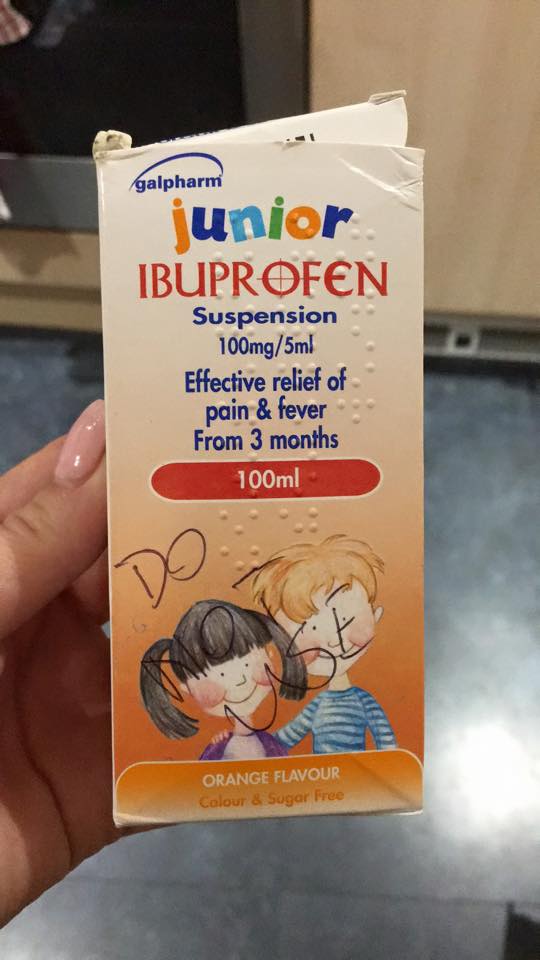 After complaining about the product to Tesco, the supermarket chain removed 80,000 bottles from the shelves.
Alison also contacted Galpharm's parent company, Perrigo, and was asked to send a sample of the product to the manufacturer for testing.
A Perrigo spokesman said: "Galpharm Junior Ibuprofen meets all regulatory quality and safety standards required for a licenced medicinal product to be sold in the UK."
After waiting over four weeks for the results, the concerned mum penned her now viral post about the medicine, encouraging other parents with similar experiences to complain.
The Medicines and Healthcare products Regulatory Agency was contacted seven times over the weekend regarding the product.