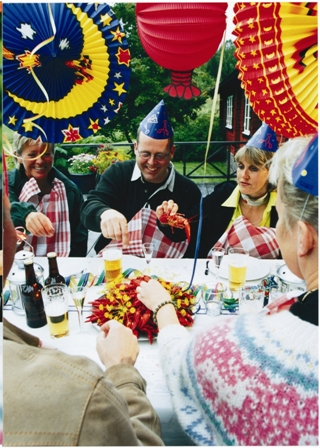 Summer's here so it can only mean one thing! IKEA Dublin is hosting their annual crayfish party over two nights, Wednesday 31st July and Thursday 1st August from 6pm. The IKEA crayfish party promises fun for all the family, with music, games and prizes and an all you can eat buffet with plenty of crayfish to enjoy!
Last year's crayfish party was a huge success, with over 500 people attending the traditional eating and drinking celebration.
So why is there such a big celebration for crayfish? Around the beginning of the 20th century crayfish were under threat of extinction and so authorities' restricted crayfish fishing to just a few weeks in August. With Swedes having to go without crayfish until late summer, the crayfish party was born. The return of crayfish to Swedish tables was a celebration indeed, and today the tradition lives on in grand style. Paper lanterns, conical paper hats, bibs and a hearty appetite are all customary party accessories!
Ticket prices for this fun family event are:
Adult €9.95
IKEA FAMILY member price €6.95
Children under 12 €4.95
Children under 5 Free
For more information about the IKEA Crayfish Party please visit
www.ikea.ie